Betting School: In-running Horse Racing, Article 1
In this short series of articles, we are going to be looking at in-running horse racing and how you can profit by trading horses in-running on the betting exchanges.
The in-running markets are very volatile and react quickly to what is happening in the race. When stepping in to the in-running markets, you need to be aware of what you are up against.
Some of the punters at the race tracks use live video feeds in private boxes to trade on what is happening in a race, seconds before everybody else gets to see it at home on terrestrial TV, on Racing UK or At The Races. Someone could be sat in the stands with their 4G phone or tablet, insidiously laying fallers or backing the second placed horse, while the horse trading at 1.01 hits the deck when clear.
Even though you are going to be at a disadvantage against those with a quicker view of the racing, you can gain an edge by gathering information about the way certain horses consistently run and trade, before those at the track get involved.
By taking a pre-race position (backing) on a horse, you expect to trade lower in-running. You can lay it back at much shorter odds in-running. This way, you either lock in a free bet or you "green up" on the exchanges, meaning you secure a profit whatever the final outcome of the race will be.
To make a profit, you need to focus on two specific types of horses. The first type are the horses that are solid front-runners, while the second one are the strong travelling type, who end up challenging for the lead late in the race. While it looks like they are doing well in their races, these horses will trade consistently lower in-running and this is when you can lay them at shorter prices in order to make a profit.
Front-runners are the favourites of the in-running traders and by simply looking at their past form and in-running trading histories, you can identify strong front runners, that will bring you a profit. If the horse goes into the lead from the very beginning of the race, the price will begin to contract and in a matter of seconds you have the opportunity to get out with a small profit. Of course, if you expect it to run well for a lot longer, you can look to lay it back at a shorter price. On the flip side, if the horse fails to go into the lead, it will probably drift out and you will need to react quickly. Either you trade out for a small loss, or you sit on your bet and hope it makes progress.
With strong travelling type horses your lay bet isn't going to be matched until late in the race. At that moment, your horse will be making headway from behind or it will be travelling strongly on the bridle, while others in the race are struggling and the jockeys are pushing away hard on their mounts with their whips flying. Seeing the motionless jockey of your horse waiting to pounce for the win, many will pick it out as the likely winner, but often they will end up disappointed with the final outcome.
The key to making back-to-lay bets profitable is selecting horses that consistently trade low in their races, but are beaten often. The easiest way of identifying horses to trade on is to look at their past in-running trading histories, which can be found on my website www.winningwarlock.com. All of the British and Irish race meetings are automatically profiled and rated in order to highlight horses that have traded low with consistency.
Using this information, you can investigate the future chances of these horses to trade low again, taking into account the current race conditions. In the next article, we will be looking more in depth at selecting horses and at what to consider when choosing a horse to trade.
Back-to-lay Bets
Let us assume you have identified a horse that should be profitable to trade in-running. You can either just look to lay it in-running at a short price, or back it pre-race and then lay it at a low price in-running. You can just lay the horse in-running, without first backing it pre-race, but be aware that, if the horse does go on to win the race, you can end up facing a large loss.
If you don't like the thought of a large pay-out, then a back-to-lay bet is a great way to profit from laying in-running. It doesn't matter whether your horse wins or loses; you will still make a profit as long as your in-running lay bet is matched. The equity in your back bet is used as the fund for your lay bet.
Example scenario:
Harelys Max has a great in-running profile. Out of 13 runs, he traded below at least half his BSP (Betfair Starting Price) on 11 occasions, including his last 9 runs, and looked a great bet to do so again with race conditions suiting, ground, distance, class, etc.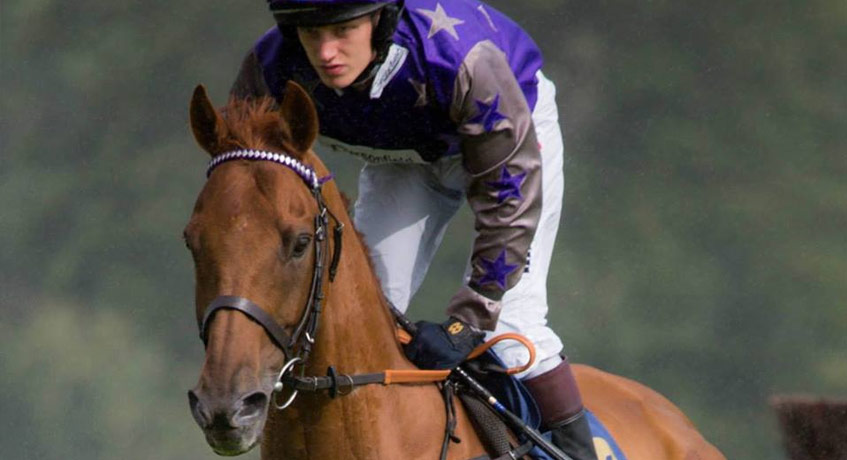 We are looking to place a back-to-lay bet to double our initial stake, known as a D.O.B. (Double or Bust) bet. On the betting exchange, we place a £10 win, pre-race bet on Harley Max at 16.0, so if he goes on to win we could win £150. We place a £20 lay bet at 8.0, which is half of the back bet odds, and then we need to update the bet to keep in-play, when the race starts. If he does go on to win the race, we will have a potential liability of £140, which is offset by our win bet.
The reason why it is important to remember to use the 'keep' option and update the lay bet after placing it, is that bets are automatically cancelled by default, if they are not matched once the market turns in-play.
If our lay bet is matched in-running, irrelevant of who goes on to win the race, we would make £10 profit (minus exchange commission, usually 5% of profit made). All we are risking is our initial £10 stake and we would only lose that, if our lay bet is not matched in-running.
The straight D.O.B. bet approach is the simplest type of back-to-lay bet, as you are just laying back at half the price for double the initial stake in order to double your money.
If you fancy the horse to trade much lower, based on its past in-running traded prices, then you could look to lay it back at a much shorter price for a bigger profit. You could lay that same £10 back bet at 4.0 for a £40 stake and you would be £30 in profit, if your bet is matched in-running. If you are risk averse or you confidently expect the horse to trade lower in-running, but not to less than half its back price, you can alternatively look to make less profit for a safer bet. Therefore, you could lay back at a bigger price, which is several ticks lower than the back price. This is a common approach for back-to-lays on front runners, where they consistently trade low as they go on to lead.
To spread the risk of your lay bet not been matched in-running and losing your full stake, you can split it into multiple lay bets at different prices. Instead of one lay bet of £20 at 8.0, you could lay back two bets: one of £10 at 7.0 and another one of £10 at 9.0. This still equates to the same liability of £140 but it is spread over two bets. The bigger price will be matched quicker and will cover your stake to break even. In order for your other bet to be matched, the horse will have to trade lower. The latter will generate your profit.
This brief introduction to the in-running horse racing markets presents you with some of the opportunities to profit from the fast moving exchange markets when these have turned in-play. With a little bit of research, you will be able to gain an edge over the on-track traders and be out with a profit before the race has even finished.
This series of articles were written as an introduction to in-running exchange trading for the monthly magazine Betting School Insiders, www.betting-school.com.
1 Feb 2016
Latest on the Exchanges