Watch Horse Racing Replays Free Online
If you want to review any British or Irish horse horse race you can see them FREE online through a Bet365 account.
If you already have an account you can just navigate to the horse racing section and find the horse you want to review and click the play icon next to the horse name and it will open up the Bet365 Extra pop-up where the video of the horse last run will play.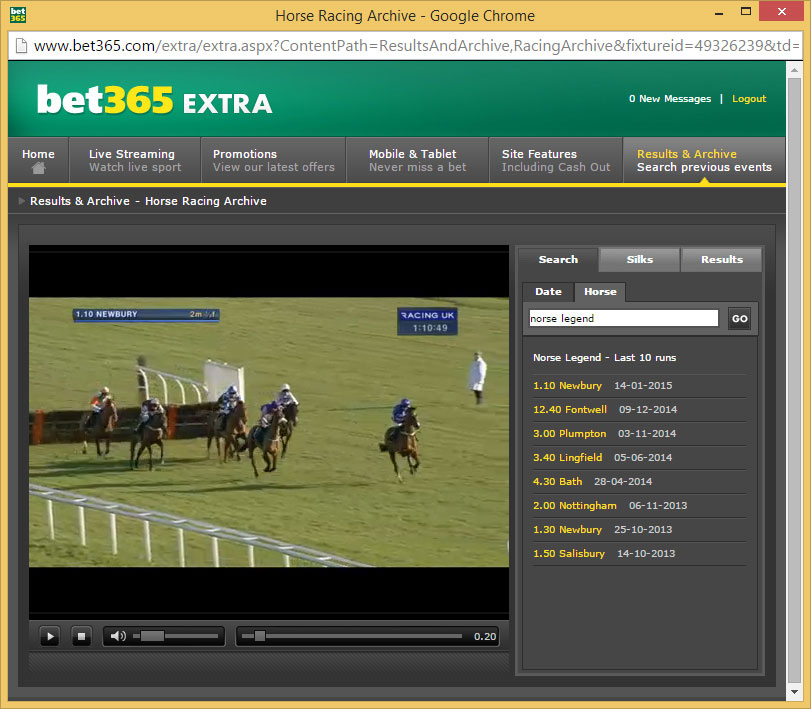 You can also just type in any horse name in the search tab and it will will retrieve all it's runs in Britain and Ireland that were on Attheraces or Racing UK.
If you don't have an account you can sign up for one in minutes with no requirement to bet on racing for unlimited access to to view their racing video archive. The Racing Post also has the full archive of Attheraces and Racing UK replays but they are part of the Ultimate Members Club that will cost you £26 per month.
All the Attheraces replays are available on their website which is free to sign up to but you will not get any of the Racing UK tracks covered.
While you will hardly want to be spending hours reviewing race replays they can be invaluble when considering backing a horse that may have met trouble in running or have made jumping mistakes to judge for yourself how these impacted the result of the race rather than just relying on brief notes made by a race watcher writing race notes for the form book.
21 Mar 2015
Latest on the Exchanges