Antepost Preview: Cheltenham Gold Cup 2018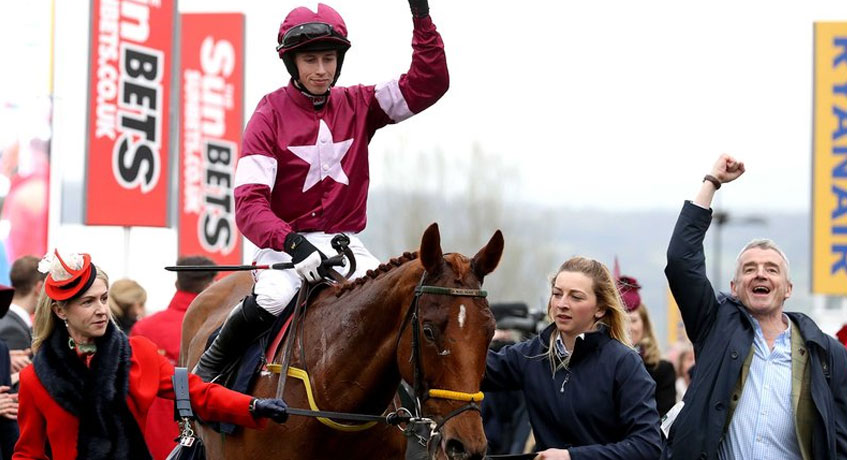 Narrowing the Gold Cup Field on Price
The 1st and easiest way to cut the field down and manage the Ante post market is to look at previous priced winners. In the last 17 years 16 winners were priced under 10/1. Most of us now use Betfair as our market guide, and I think it is very safe to say that if you stick to under 12s on Betfair you are in the target zone. We are obviously looking Ante post and would expect the market to tighten up. I would not want to place my hopes on a steamed horse so for this reason this first rule will take us down to 12 runners. Min looks a likely non-starter, and Total recall simply is just not good enough. The 12 on the list of most likely winners are:
Might Bite
Sizing John
Native River
Coney Island
Road To Respect
Killultagh Vic
Our Duke
Definitely Red
Minella Rocco
Disko
Edwulf
Black Lion
Horses with the Proven Class to win a Gold Cup
This 12 looks very likely that the winner will be contained within this list. However we really need to work harder to get this list more manageable. This means looking at another very strong indicator that will keep the winner but eliminate any horse that does not possess the class required to win a Gold Cup. To win this race you must have speed and stamina. The easiest measure that we can use to achieve these criteria is to insist that our pick has these attributes is demand that our horse has won a Grade 1 chase.
Once we employ this measure, we can safely eliminate Definitely Red. We can also eliminate Minella Rocco. This rule should also throw out Killultagh Vic. I am loathed at this stage to chuck him out though, as he was surely going to win a Grade 1 chase had he not fallen. I am hopeful we can get him out on another demand later. We are now left with 10 runners from the above list.
Such are the demands of this race, and the speed at which it is run and also with stamina also becoming a factor, we simply must demand a horse that has had at least 6 runs over fences. This rule may be subjective as in the last 5 years Bob's Worth won the race with less than 6 runs over fences he had run 5 times over fences. The other winner was the magnificent Coneygree, he only had 4 runs over fences. There could be argument here that this could be a new trend developing and 40% or 2/5 is impressive. I personally think those 2 horses listed were exceptional, and I am proud to say I backed Bob's Worth, I did though desert Coneygree, even though I had him so far clear on my stopwatch I thought he was a Novice who would be over powered by the seasoned chasers. He deserved the win, I backed Road To Riches on the day. Using this method we wipe out Killultagh Vic we also wipe out Coney Island. I feel both these horses are nowhere near the class of Bob's Worth or Coneygree. Let us take a look at our list of candidates. We are now left with 8 runners:
Might Bite
Sizing John
Native River
Road To Respect
Killultagh Vic
Our Duke
Disko
Edwulf
Black Lion
Horses that are Prepared and Race-Fit for the Gold Cup
The next rule is very strong but unfortunately only wipes out a further 2 runners, the 90 day last run rule.
This wipes out Black Lion and Disko. Now there is a chance Black Lion is likely to run on the 17th Feb. I will though revert to Betfair prices and state my earlier rule about 10/1 we can also wipe out Edwulf with this rule, this will leave us with:
Might Bite
Sizing John
Native River
Road To Respect
Our Duke
Horses with Proven Form at Cheltenham
The next rule only takes out 1 more. This rule is previous experience over the Cheltenham fences. Horses for courses here, you do not want to be making your debut here in the Gold Cup and never have looked at these fences before. That is a very big ask, Our Duke fails this criteria.
We are now left with 4 very good horses, I am quite happy to remove Native River. This horse has the look to me of a nearly Gold Cup class horse. I think he will run a great race and he has a tremendous chance of placing, but ultimately it will be disappointing if something here does not beat him.
Most Likely Gold Cup Winners
Might Bite
Sizing John
Road To Respect
Might Bite looks brilliant, it will take a good one to beat this horse if he turns up here for work. The Cup looks like he can get his name on it, I really like this horse and he looks a likely winner. I will throw a spanner in the works here though and I feel I must play devil's advocate; it is very subjective it is also pretty flimsy, but I think and do believe it holds sway. Might Bite was beaten at Ffos Las, he was beaten by Binge Drinker, and this horse is a handicapper. A lot has happened since this race, Might Bite has proved himself Grade 1 on numerous occasions since this defeat. However I do not care what anyone says, this casts a doubt if this horse is a true Gold Cup horse, Kempton and the King George win, marks him down in an elite band. This year's King George was one of the weakest King Georges for years. I have my doubts about Might bite I also have my doubts about the King George form. The fact that Bristol De Mai was slammed by Definitely Red does not bode well. The truth will out on 16th March. I Think Might Bite is a brilliant horse do not get me wrong, but I also think he will not win the Gold Cup.
Sizing John was my tip last year. I would not be surprised to see the horse turn up here absolutely trained to the second. Jessica Harrington understands Cheltenham; she will have this horse in tip top condition. I fear this horse and I will not be surprised at all if he turns up here and displays courage and valour and defends his crown. This horse is dangerous make no bones about that. I just feel he has had his day, he may well have another this year, but I am going against him this year. I do not want to back him after that last effort, but he must be feared, the King will never relinquish his crown easily.
Road To Respect. This horse appears to be on an upward curve, I am more hopeful than confident. Remember this horse started at much bigger odds than the current champion Sizing John, it was though a complete thrashing. Make excuses, say what you like, Road To Respect hammered Sizing John. I think Road To Respect is an absolutely brilliant bet here for the Gold Cup. 7/2 for a place is very generous in my opinion.
Recommended Bets
Winner. Road To Respect 10/1
Place, Sizing John 7/1 each-way
13 Feb 2018