Back-To-Lay Bets
With a back-to-lay bet, also known as a D.O.B. (Double Or Bust) is where you would back a selection first at a certain price before the event, in our case a horse and lay it off after at a shorter price in-running to make a profit.
Why Would You Back-To-Lay
Finding winners is incredibly hard but predicting how horses will run can be more reliable and this is something you can profit from.
If you could back a horse at 10.0 for £10 and lay back at 5.0 for £20 you would be guaranteed to make £10 whether the horse won or lost – this is what's sometimes referred to as Dobbing. You would only lose if your lay bet doesn't get matched.
The key to this been a profitable approach is to identify horses that will trade short in-running when we would be looking to lay our bet back at shorter odds and for a bigger stake than the back bet we placed pre-race.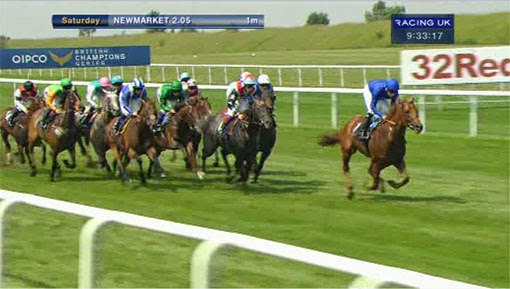 Front-runners will often trade low in races (the horse leading in the image above is a well known front-runner caled Safety Check, see the graph below of the price he trades at in running from a Betfair SP of 38.0 to 3.05 in-running) while some horses can travel extremely well in their races and challenge late on but not sustain what looks a race winning move. These are the types of horses we need to be able to identify to profit from.
One way to identify horses that we can profit from is to investigate their in-running trading histories which can be found on www.winningwarlock.com free-of-charge . If they have traded consistently low previously there's a good chance they will do so again.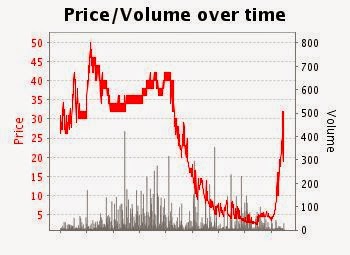 You also need to make sure the race it is running in is similar to the types of races it has performed well in the past, the distance, the ground, the class of race and is it race-fit? If it is a front-runner and there are other front-runners in the race this would be problematic as it may not lead or could go off too fast and race the other front-runner for the lead. You can check the horses form on www.racingpost.com for free.
You have the option of either doing a straight DOB and doubling you investment or trying to lay back at a much shorter price. If the horse has traded at less than 20% of its starting price on many occasions and been beaten you could try it for a bigger profit. You could back your selection at 10.0 for £10 and lay back at 2.7 for £50 so if you bet was matched it would make you a £40 profit if it was beaten and £5 if it went on to win the race.
21 Jan 2015
Latest on the Exchanges