Betting School: In-running Horse Racing, Article 3
In the previous two articles we looked at back-to-lay bets, where you would first back a horse pre-race to lay back at a shorter price in-running for a profit. Now we are going to look at backing in-running to try to get bigger price than what the horse was pre-race.
There are various situations in a race that can see the horse drift in price. In-running this can happen very quickly and dramatically, but it can be an over-reaction you can profit from.
Market Over-Reactions
Jumping mistakes are common in national hunt racing but not all are that serious to the horse's chances of remaining competitive in the race. If it is fairly early in the race and it is not a shuddering momentum stopping mistake, maybe the horse loses a couple of lengths to the others, then there could still be an over-reaction to it. A horse that started at 10.0 could easily go out to 18.0 or 20.0 with a minor mistake, but in seconds it will contract back in price most of the time, to a price maybe a fraction higher than before the mistake happened. In these types of situations you can back and lay the bet back in seconds for a quick profit or some free bet equity.
If the jockey makes any aggressive looking movements on the horse, these could be just to straighten the horse up or a flick of the whip coming to a fence or hurdle, if it made a jumping mistake previously to focus the horse's attention on the upcoming jump.
Racing Video Feeds
The biggest disadvantage you have as a punter away from the race track is the delayed video feed you will have to contend with. Making sure you are using the quickest pictures available will reduce the disadvantage you are facing when betting in-running.
Latency times from a live broadcast have varied over the years but AtTheRaces has always been quite a way behind Racing UK. For this article I tested the satellite broadcast channels against Betfair website video and also Bet365 live video to see which the best options were and how far behind they are live.
For Racing UK broadcasts, the quickest video you can get is the satellite broadcast channel which is only marginally in front of the Betfair live video, which in turn is slightly quicker than Bet365's live video. There are only a couple seconds between the quickest and the slowest options with Racing UK.
AtTheRaces satellite broadcast lags way behind the online versions and shouldn't be relied upon for betting in-running. Bet365's live video is around 5 seconds quicker than the satellite channel which is just over a second quicker than Betfair's live video stream. The quickest AtTheRaces feed, which is Bet365's of the three tested is approximately 5 seconds behind live.
While 5 seconds might not seem that bad; a horse travelling at 30 miles per hour will cover 44 feet per second which equates to around 1/3 furlong difference on the race track.
While you can trade in-running with video feeds from home you don't want to be doing it in the latter stages of the race when the track players will be looking to back what look like clear-cut winners and the market will be moving erratically as the race complexion changes.
Also, never leave back bets up on the exchange waiting to be matched for any periods of time in-running, especially in jump races. You may get matched when your horse is hitting the deck as the track layers are laying the fallers. You can put a bet up for a few seconds but if it is not matched you should cancel it. You definitely don't want to leave the bet up as a jump is approaching, remember what you are looking at is several seconds behind live so you want to be cancelling your bet several seconds before the jump.
One-Click Trading Software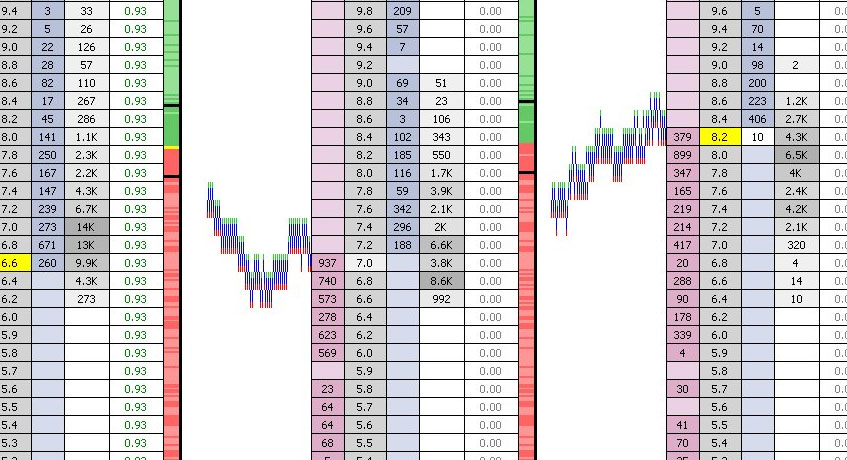 While it's perfectly possible to place back and lay bets in-running on the exchange websites, it is a multi-step process; you have to select the horse you want to back or lay, enter a stake and then submit your bet and confirm the bet, dependent on your site preferences. This process can take several seconds and if you rush it, you can quite easily make a mistake by either backing the wrong horse or by mistyping your stake; missing out a decimal point could cost you a lot of money.
To make betting in running easier and quicker and also any type of trading on the exchanges there are numerous trading platforms that will connect to supported exchange API's to allow you to place bets instantly.
Trading software makes placing bets as simple as a single click, they also have greening-up features, stop-loss and in-running interfaces.
There are many different platforms available and most are available with free 30 day try-out demos. Do a search for 'betting exchange trading software' or checkout the Betfair App Directory, apps.betfair.com. Gruss, Betangel and GeeksToy are the most popular platforms and while the features do vary, it is more than likely comes down to personal preference for the look and feel for the software.
This series of articles were written as an introduction to in-running exchange trading for the monthly magazine Betting School Insiders, www.betting-school.com.
1 Apr 2016
Latest on the Exchanges