Betting School: In-running Horse Racing, Article 2
In the first "In-running betting" article, we briefly looked at the opportunities of betting in running, focusing on back-to-lay bets. Now, we will take a more in depth look at the types of horses that offer good opportunities to trade in-running.
Even though you may be familiar with the run styles of high-profile horses and know the front-runners and strong travelling horses, you need to be aware of the fact that a lot of other people have the same knowledge. Therefore, these types of horses will be heavily traded, making it harder to profit from them while trading in-running.
The well-known 'in-running' horses tend to get backed heavily before the race. This can artificially force the price down and give less room for price movement in-running. Due to the fact that these horses have been backed pre-race, there will be a large amount of money in-running on the lay side, waiting to be matched. Therefore, it will be much harder to get matched in-running, unless the horse performs exceptionally well in the race.
Lower grade racing and most of the mid-week racing can offer better opportunities in finding a lesser known horse that has traded low consistently. Narrowing the field down to find those types of horses can be achieved by looking at the in-running traded prices from previous races.
The BSP (Betfair Starting Price) traded data is freely available to download from the Betfair website the day after the race, usually around 7.30am. It contains lots of data about each horse that ran the previous day, including the pre-race and in-running traded prices.
By comparing the Betfair starting price of a horse (BSP) with the lowest in-running price it traded down to, you can identify patterns in a runner's racing career.
Using Historic In-running Data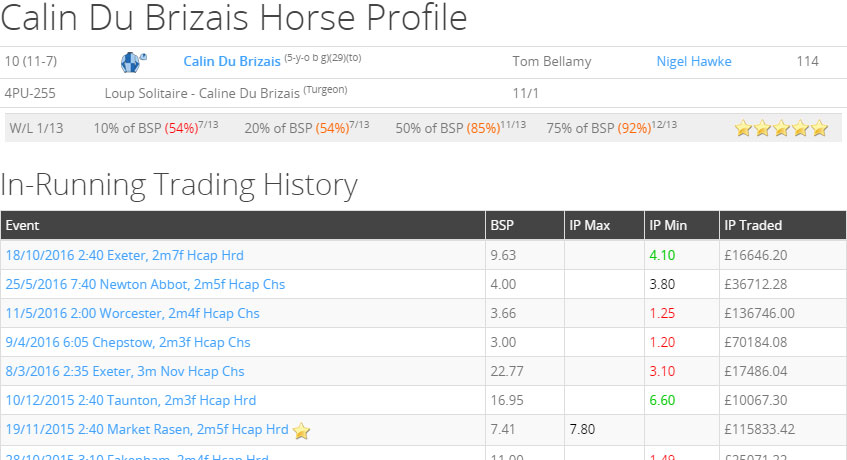 My website www.winningwalock.com downloads and uses Betfair data to identify horses that have strong patterns of trading much lower than their BSP.
Each day, race cards are generated for all the English and Irish meetings and the historical traded data is used to highlight those horses that have strong histories of trading low.
A star rating is used to highlight the overall careers of the horses trading low, with a 5 star rating being the highest.
The rosette and cloud icons next to the horse's name indicate its current form over its last 5 runs. The current form is a very important factor. For example a horse could have a great trading history, but a loss of recent form or other contributing factors could cause the horse to perform well below its past level. Therefore, this particular runner doesn't represent such a good opportunity anymore. Another important piece of information that the website identifies is the number of days since the horse last ran. This enables you to eliminate the horses that have not run for a long time.
While the website's ratings can quickly help you identify horses to trade, you still need to research all the other factors (e.g. distance, going, price, race class, etc.) that can affect the horse's performance during that particular race.
Market Price Implications
When deciding on a strategy to make a profit, you need to take into consideration any dominating favourite in the race and your runner's trading history.
In any race with an opposing short price favourite, punters could show less interest in backing your selection or any other runners in the race, as the focus will be on the market leader. A short priced favourite also increases the likelihood of one horse dominating to such an extent that others in the race are unlikely to get involved and to see downward price movement. While it would be very risky to side with a hold-up horse taking on a short priced favourite, a strong front runner would be a safer proposition and can often trade fairly low against a strong favourite.
If you are looking to do a back-to-lay D.O.B. (Double or Bust), then you need to back a horse bigger than 4.0 on Betfair, so you can lay it back at 2.0 for double the stake. If you back at a shorter price, you will have to lay back at less than even money. With a different trading strategy, you can still profit from a shorter priced horse in-running, but your profit will be smaller.
While big priced front-runners often trade low, it is riskier with a hold up horse that would need to perform to a high level of form near the end of the race, when the price suggests it is not good enough.
It is also worth checking the horse's past trading history: what price ranges it normally starts at (the BSP) and what prices it trades down to in-running. If a runner has been starting at big prices, e.g. 50+, and has been trading low in-running to single figure prices, but it suddenly dropped down in grade, being a short price contender, then approach with caution. It may be an easier race, but it may not move as much in the betting as it did in the past. The same applies to a horse moving up in grade, that may find itself out of its depth and struggling in a better race.
Pay attention to the pre-race market in the minutes before the race. If the horse drifts markedly, there is a good chance that it is not expected to run well. As tempting as it is to back at a bigger price, it invariably indicates its chances, so it is definitely worth avoiding.
A change in Distance
If the horse you are interested in is moving up or dropping back in distance, you need to be aware of the consequences for in-running trading. A horse going up in distance can prove to be a good trading opportunity. Due to the slower pace of a longer distance race, the horse can travel well for a longer period of time, before any stamina issues begin to surface. When stepping up in distance, a front-runner will generally be ridden the same. But if the horse is ridden differently, in order to preserve its stamina, then it can leave you facing a loss as the market can react against it.
A horse dropping back in distance is usually worth avoiding. When faced with a faster pace, this type of horse might struggle to run its usual race and it could drift markedly. Although it may stay on at the end of the race, it will probably be too late for a successful trade.
Even though it can take a lot of time to research and to identify good horses worth trading, once you do find the most suitable ones, it can be profitable to follow these runners while they are still in form. Because they tend not to win very often, these horses end up with a competitive handicap mark that allows them to perform at a similar level each time they run.
This series of articles were written as an introduction to in-running exchange trading for the monthly magazine Betting School Insiders, www.betting-school.com.
1 Mar 2016
Latest on the Exchanges