Aidan O'Brien Trainer Betting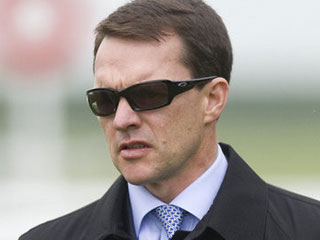 Recent trainer statistics
12
Winners from last 71 runners, in the last 14 days.
£71.00 Bet at &pound1.00 level stakes would result in a loss of £-20.77 at industry SP. The same bets placed at Betfair SP would show a loss of £-12.53 to £1.00 level stakes.
Today's Runners
The trainers runners for today and all other trainer statistics are updated around 9.30am each day.
Recent Runners
22nd Jun 18
16:20 Ascot 1m Grp1
Clemmie
5/12
7/2
4/1
5.56
5.90
5.00

(82%)

22nd Jun 18
15:40 Ascot 6f Grp1
Actress
17/22
40/1
40/1
50.54
52.69
55.00

(104%)

22nd Jun 18
19:45 Limerick 1m3f Mdn
Away
6/13
25/1
14/1
12.44
19.69
15.00

(75%)

22nd Jun 18
19:45 Limerick 1m3f Mdn
Baby Pink
2/13
9/1
7/1
5.70
9.57
6.20

(61%)

22nd Jun 18
15:40 Ascot 6f Grp1
Fleet Review
15/22
20/1
16/1
23.96
20.12
16.00

(78%)

22nd Jun 18
17:35 Ascot 1m4f Hcap Stks
Clear Skies
10/17
22/1
14/1
17.66
29.04
15.50

(52%)

22nd Jun 18
15:40 Ascot 6f Grp1
Sioux Nation
16/22
6/1
11/4
5.62
4.40
3.45

(72%)

22nd Jun 18
18:00 Limerick 7f Mdn
Fleeting
1/6
9/4
9/4
3.15
4.21
1.01

(0%)

22nd Jun 18
17:00 Ascot 1m Hcap Stks
Hence
9/23
16/1
10/1
16.92
12.41
8.80

(68%)

22nd Jun 18
14:30 Ascot 6f Grp3
Just Wonderful
14/18
9/2
2/1
3.55
3.57
3.50

(97%)

22nd Jun 18
15:05 Ascot 1m4f Grp2
Rostropovich
2/9
5/1
7/1
7.88
8.28
1.61

(8%)

22nd Jun 18
17:00 Ascot 1m Hcap Stks
Broadway
22/23
25/1
12/1
20.40
19.00
19.00

(100%)

22nd Jun 18
15:05 Ascot 1m4f Grp2
Giuseppe Garibaldi
3/9
10/1
15/2
9.75
8.96
1.62

(8%)

22nd Jun 18
14:30 Ascot 6f Grp3
Fairyland
3/18
4/1
5/2
4.78
3.68
1.25

(9%)

22nd Jun 18
15:05 Ascot 1m4f Grp2
Delano Roosevelt
5/9
7/2
5/2
4.37
4.10
3.75

(89%)

21st Jun 18
15:40 Ascot 1m4f Grp2
Magic Wand
1/10
13/2
10/3
5.60
5.01
1.01

(0%)

21st Jun 18
17:35 Ascot 1m4f Hcap Stks
Lucius Tiberius
13/18
20/1
14/1
18.04
20.37
21.00

(103%)

21st Jun 18
16:20 Ascot 2m4f Grp1
Order Of St George
4/9
13/8
7/4
3.00
2.78
1.95

(53%)

21st Jun 18
19:05 Leopardstown 1m Mdn
Spanish Point
1/13
3/1
5/1
3.47
7.40
1.01

(0%)

21st Jun 18
20:05 Leopardstown 1m2f Hcap
Christopher Robin
7/7
2/1
10/3
3.92
4.78
2.50

(40%)

21st Jun 18
14:30 Ascot 5f Grp2
Land Force
3/10
12/1
7/1
9.96
9.30
2.32

(16%)

21st Jun 18
17:00 Ascot 1m Hcap Stks
Bond Street
7/30
22/1
8/1
17.21
10.50
7.00

(63%)

21st Jun 18
15:40 Ascot 1m4f Grp2
Sarrocchi
8/10
33/1
25/1
39.08
44.80
20.00

(43%)

21st Jun 18
15:40 Ascot 1m4f Grp2
Sizzling
10/10
40/1
33/1
49.25
72.73
60.00

(82%)

21st Jun 18
17:00 Ascot 1m Hcap Stks
Full Moon
15/30
28/1
33/1
57.08
82.55
75.00

(91%)

21st Jun 18
18:30 Leopardstown 1m Mdn
Sovereign
5/7
3/1
10/3
6.91
4.52
4.70

(105%)

21st Jun 18
15:40 Ascot 1m4f Grp2
Athena
4/10
11/1
12/1
11.08
18.50
8.20

(41%)

21st Jun 18
15:05 Ascot 1m2f Grp3
Hunting Horn
1/16
7/1
5/1
7.42
6.87
1.01

(0%)

21st Jun 18
17:00 Ascot 1m Hcap Stks
James Cook
21/30
40/1
20/1
32.42
30.00
26.00

(86%)

20th Jun 18
16:20 Ascot 1m2f Grp1
Cliffs of Moher
4/7
16/1
10/1
13.90
16.35
11.00

(65%)

20th Jun 18
15:40 Ascot 1m Grp2
Hydrangea
8/11
7/4
7/4
2.87
2.85
2.40

(76%)

20th Jun 18
15:05 Ascot 1m6f Grp2
Southern France
2/12
3/1
9/2
6.17
6.20
4.10

(60%)

20th Jun 18
14:30 Ascot 5f Grp2
So Perfect
4/22
8/1
8/1
9.98
11.12
9.40

(83%)

20th Jun 18
14:30 Ascot 5f Grp2
Gossamer Wings
2/22
40/1
25/1
39.17
38.49
1.62

(2%)

20th Jun 18
17:35 Ascot 7f Grp3
Could It Be Love
3/21
9/1
11/2
6.74
7.79
1.50

(7%)

20th Jun 18
15:05 Ascot 1m6f Grp2
Nelson
3/12
9/2
9/2
5.65
5.89
2.50

(31%)

20th Jun 18
15:05 Ascot 1m6f Grp2
Kew Gardens
1/12
5/1
10/3
4.54
5.02
1.01

(0%)

19th Jun 18
15:40 Ascot 5f Grp1
Different League
6/14
40/1
16/1
24.25
26.83
25.00

(93%)

19th Jun 18
14:30 Ascot 1m Grp1
Deauville
12/15
22/1
16/1
19.79
21.00
13.50

(63%)

19th Jun 18
15:40 Ascot 5f Grp1
Battle of Jericho
11/14
80/1
50/1
99.17
120.60
110.00

(91%)

19th Jun 18
16:20 Ascot 1m Grp1
Gustav Klimt
2/10
9/1
8/1
12.27
10.40
2.00

(11%)

19th Jun 18
16:20 Ascot 1m Grp1
Threeandfourpence
8/10
66/1
20/1
51.00
31.56
20.00

(62%)

19th Jun 18
15:40 Ascot 5f Grp1
Washington DC
8/14
18/1
12/1
18.50
16.78
14.00

(82%)

19th Jun 18
16:20 Ascot 1m Grp1
U S Navy Flag
9/10
7/1
5/1
7.04
6.60
3.80

(50%)

19th Jun 18
17:35 Ascot 1m2f Listed
Yucatan
16/16
14/1
10/1
9.55
14.81
13.00

(87%)

19th Jun 18
15:05 Ascot 6f Grp2
Sergei Prokofiev
3/23
5/2
3/1
3.97
4.58
4.40

(95%)

19th Jun 18
14:30 Ascot 1m Grp1
Rhododendron
9/15
11/4
10/3
4.49
4.93
3.00

(51%)

19th Jun 18
15:40 Ascot 5f Grp1
Declarationofpeace
14/14
40/1
66/1
65.42
190.33
160.00

(84%)

19th Jun 18
15:05 Ascot 6f Grp2
The Irish Rover
13/23
14/1
12/1
16.77
16.35
8.00

(46%)

18th Jun 18
19:40 Naas 7f Mdn
Curly
3/14
3/1
2/1
4.44
3.42
1.35

(14%)

18th Jun 18
20:10 Naas 7f Hcap
Darkness Falls
1/8
10/1
6/1
7.00
9.07
1.01

(0%)

18th Jun 18
17:40 Naas 5f Mdn
Fantasy
2/8
15/2
6/1
6.33
8.12
5.00

(56%)

18th Jun 18
18:40 Naas 5f Listed
Dali
1/8
3/1
9/4
3.21
3.40
1.01

(0%)

17th Jun 18
14:20 Cork 7f Mdn
Peach Tree
5/7
9/2
4/1
6.96
5.86
7.80

(140%)

17th Jun 18
15:50 Cork 1m4f Grp 3
Sizzling
3/9
14/1
16/1
14.27
26.06
11.00

(40%)

17th Jun 18
15:50 Cork 1m4f Grp 3
Flattering
1/9
8/1
5/2
5.09
4.10
1.01

(0%)

17th Jun 18
16:50 Cork 1m2f Mdn
Victory Salute
1/9
15/8
6/4
2.17
2.71
1.01

(1%)

17th Jun 18
14:20 Cork 7f Mdn
Mohawk
1/7
10/3
4/7
2.06
1.52
1.01

(2%)

17th Jun 18
15:50 Cork 1m4f Grp 3
Easter Lily
6/9
40/1
20/1
30.00
39.73
4.00

(8%)

16th Jun 18
18:15 Limerick 1m3f Stks
Christopher Robin
1/6
4/1
7/2
5.38
4.90
1.08

(2%)

16th Jun 18
17:10 Limerick 1m Mdn
Conclusion
1/11
4/1
3/1
5.52
4.26
1.01

(0%)

15th Jun 18
17:40 Fairyhouse 6f Mdn
Coral Beach
4/10
11/8
7/4
2.35
3.76
3.45

(89%)

15th Jun 18
19:15 Fairyhouse 7f Stks
Most Gifted
3/4
5/6
2/5
1.72
1.42
1.16

(38%)

14th Jun 18
18:30 Leopardstown 7f Mdn
Darkness Falls
9/15
9/1
12/1
10.00
17.50
6.20

(32%)

14th Jun 18
18:00 Leopardstown 6f Mdn
National Guard
2/5
15/8
2/11
2.19
1.15
1.05

(33%)

14th Jun 18
19:05 Leopardstown 7f Grp 3
Full Moon
5/7
14/1
5/1
13.46
5.40
4.70

(84%)

9th Jun 18
15:55 Curragh 1m2f Listed
Sizzling
3/7
12/1
13/2
9.55
9.00
8.00

(88%)

9th Jun 18
14:10 Curragh 6f Mdn
Cardini
5/14
17/2
5/1
3.57
7.40
4.40

(53%)

9th Jun 18
14:10 Curragh 6f Mdn
All The Kings Men
6/14
12/1
16/1
16.58
38.00
34.00

(89%)

9th Jun 18
14:10 Curragh 6f Mdn
I Remember You
10/14
6/1
10/1
11.69
18.50
19.00

(103%)

9th Jun 18
15:55 Curragh 1m2f Listed
Easter Lily
4/7
16/1
9/1
10.28
14.50
5.50

(33%)

8th Jun 18
19:45 Curragh 6f Grp 3
Actress
1/7
15/2
11/2
6.20
7.40
1.01

(0%)

8th Jun 18
17:25 Curragh 7f Mdn
Cape Of Good Hope
4/9
10/3
8/11
2.80
1.80
1.12

(15%)

8th Jun 18
19:10 Curragh 5f Hcap
Dali
2/12
6/1
6/1
5.92
7.91
1.01

(0%)

7th Jun 18
19:55 Leopardstown 1m4f Listed
Giuseppe Garibaldi
1/5
7/2
7/4
3.58
2.92
1.01

(1%)

7th Jun 18
18:15 Leopardstown 7f Stks
Bond Street
1/6
11/4
10/11
2.79
2.15
1.01

(1%)

7th Jun 18
17:45 Leopardstown 7f Mdn
Secret Thoughts
2/9
9/1
7/4
3.50
2.75
2.24

(71%)

7th Jun 18
17:45 Leopardstown 7f Mdn
Fire Fly
4/9
7/2
5/2
5.84
3.66
3.55

(96%)

7th Jun 18
19:55 Leopardstown 1m4f Listed
Lucius Tiberius
3/5
4/1
9/2
6.80
6.60
3.05

(37%)

6th Jun 18
14:55 Navan 5f Mdn
Fantasy
5/8
4/1
9/2
4.88
7.60
5.00

(61%)

6th Jun 18
14:55 Navan 5f Mdn
Gossamer Wings
1/8
11/8
4/6
2.12
1.72
1.01

(1%)

4th Jun 18
14:15 Gowran Park 7f Mdn
Darkness Falls
6/10
13/2
7/2
7.97
5.00
4.00

(75%)

4th Jun 18
15:45 Gowran Park 1m1f Mdn
Conclusion
2/9
7/4
8/11
2.16
1.77
1.60

(78%)

3rd Jun 18
14:10 Listowel 6f Mdn
Coral Beach
2/10
6/4
1/1
2.42
2.01
1.30

(30%)

2nd Jun 18
16:40 Navan 1m Stks
Full Moon
2/5
13/2
5/1
7.60
6.11
1.63

(12%)

2nd Jun 18
16:30 Epsom 1m4f Grp1
The Pentagon
8/12
22/1
33/1
41.58
65.98
42.00

(63%)

2nd Jun 18
15:00 Navan 1m5f Mdn
Giuseppe Garibaldi
1/6
8/1
7/2
5.94
5.20
1.01

(0%)

2nd Jun 18
13:15 Navan 5f Mdn
Isle Of Innisfree
2/6
5/1
6/1
9.03
8.50
2.00

(13%)

2nd Jun 18
16:30 Epsom 1m4f Grp1
Saxon Warrior
4/12
6/5
4/5
1.97
1.87
1.65

(75%)

2nd Jun 18
16:30 Epsom 1m4f Grp1
Kew Gardens
9/12
50/1
16/1
37.67
23.70
13.00

(53%)

2nd Jun 18
16:30 Epsom 1m4f Grp1
Delano Roosevelt
6/12
16/1
16/1
19.29
27.00
17.00

(62%)

2nd Jun 18
15:00 Navan 1m5f Mdn
Cypress Creek
2/6
1/1
8/13
2.11
1.64
1.31

(48%)

1st Jun 18
16:30 Epsom 1m4f Grp1
Bye Bye Baby
3/9
7/1
8/1
8.53
13.25
3.10

(17%)

1st Jun 18
16:30 Epsom 1m4f Grp1
I Can Fly
8/9
14/1
9/1
18.85
14.28
11.00

(75%)

1st Jun 18
15:10 Epsom 1m4f Grp1
Idaho
4/6
15/2
8/1
11.50
12.96
7.00

(50%)

1st Jun 18
16:30 Epsom 1m4f Grp1
Magic Wand
4/9
5/1
4/1
6.02
5.80
4.70

(77%)

1st Jun 18
16:30 Epsom 1m4f Grp1
Forever Together
1/9
6/1
7/1
7.99
9.27
1.01

(0%)

1st Jun 18
15:10 Epsom 1m4f Grp1
Yucatan
6/6
50/1
33/1
44.08
56.66
30.00

(52%)

1st Jun 18
16:30 Epsom 1m4f Grp1
Flattering
5/9
40/1
11/1
27.50
13.40
9.80

(71%)

31st May 18
20:50 Fairyhouse 1m2f Mdn
Athena
1/10
11/10
2/5
1.68
1.36
1.01

(3%)