Aidan O'Brien Trainer Betting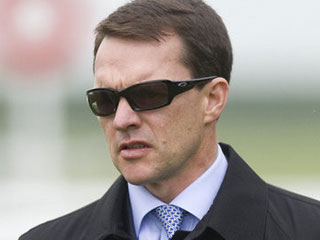 Recent trainer statistics
9
Winners from last 38 runners, in the last 14 days.
£38.00 Bet at &pound1.00 level stakes would result in a loss of £-11.54 at industry SP. The same bets placed at Betfair SP would show a loss of £-9.24 to £1.00 level stakes.
Today's Runners
The trainers runners for today and all other trainer statistics are updated around 9.30am each day.
Recent Runners
14th Oct 19
16:45 Gowran Park 1m4f Mdn
King Pellinor
1/16
17/2
11/4
4.80
4.20
1.01

(0%)

14th Oct 19
13:35 Gowran Park 1m Mdn
Greek Gladiator
10/12
11/1
14/1
27.04
27.00
24.00

(88%)

14th Oct 19
13:35 Gowran Park 1m Mdn
Arthurs Kingdom
1/12
13/8
11/10
1.93
2.09
1.01

(1%)

13th Oct 19
14:40 Curragh 1m Listed
Fancy Blue
1/7
7/2
4/1
4.55
5.70
1.01

(0%)

13th Oct 19
14:05 Curragh 6f Listed
Tango
1/8
6/4
11/8
1.99
2.69
1.01

(1%)

13th Oct 19
13:35 Curragh 6f Mdn
Precious Moments
1/13
2/1
8/11
2.53
1.80
1.01

(1%)

12th Oct 19
16:20 Limerick 7f Stks
Dunkirk Harbour
1/7
9/4
5/1
3.17
6.20
1.01

(0%)

12th Oct 19
15:30 Newmarket 7f Grp1
Monarch Of Egypt
5/9
50/1
16/1
66.46
36.38
8.60

(21%)

12th Oct 19
15:30 Newmarket 7f Grp1
Arizona
2/9
22/1
14/1
39.67
31.77
2.58

(5%)

12th Oct 19
14:55 Newmarket 1m Grp3
Persia
5/8
6/1
9/2
6.67
6.30
4.90

(74%)

12th Oct 19
16:10 Newmarket 2m2f Hcap Stks
Cypress Creek
14/30
40/1
33/1
39.00
61.91
50.00

(80%)

12th Oct 19
14:20 Newmarket 1m2f Grp3
Mythical
4/8
7/2
2/1
3.95
3.05
2.06

(52%)

12th Oct 19
15:30 Newmarket 7f Grp1
Wichita
3/9
11/2
7/2
7.03
8.06
4.50

(50%)

12th Oct 19
14:35 Limerick 7f Mdn
Hong Kong
2/11
11/4
11/8
4.80
2.54
2.40

(91%)

11th Oct 19
19:45 Dundalk 1m2f Hcap
Eminence
5/14
8/1
7/2
5.37
4.73
2.26

(34%)

11th Oct 19
15:35 Newmarket 1m Grp 1
Love
3/9
4/1
4/1
5.47
5.40
4.60

(82%)

11th Oct 19
17:20 Newmarket 1m2f Grp 3
Simply Beautiful
3/8
11/2
5/1
7.13
8.00
5.60

(66%)

11th Oct 19
18:45 Dundalk 1m Hcap
Pacific Ocean
9/13
17/2
8/1
5.62
12.00
6.60

(51%)

11th Oct 19
16:45 Newmarket 7f Mdn Stks
Elfin Queen
4/16
9/1
7/1
6.97
9.00
5.20

(53%)

11th Oct 19
13:50 Newmarket 5f Grp 3
Pistoletto
2/12
18/1
12/1
18.56
15.65
1.66

(5%)

10th Oct 19
14:35 Thurles 1m Nursery
Louisiana
1/7
2/1
4/5
2.30
1.93
1.01

(1%)

10th Oct 19
14:05 Thurles 1m Mdn
Peaceful
1/11
7/2
8/11
1.83
1.99
1.01

(1%)

10th Oct 19
16:50 Thurles 2m Hcap
Whitsunday Islands
9/15
17/2
10/1
10.00
15.24
9.60

(60%)

10th Oct 19
15:10 Thurles 1m Mdn
Magic Fountain
3/14
14/1
12/1
12.29
23.00
6.00

(23%)

10th Oct 19
17:20 Thurles 2m Mdn
King Pellinor
5/14
6/1
4/1
5.94
6.55
6.20

(94%)

10th Oct 19
14:05 Thurles 1m Mdn
Snow
4/11
15/2
14/1
14.96
21.00
18.00

(85%)

9th Oct 19
16:10 Navan 1m Mdn
Flying Scotsman
11/17
14/1
20/1
15.50
42.00
40.00

(95%)

9th Oct 19
16:10 Navan 1m Mdn
Silver Fox
8/17
12/1
14/1
18.50
20.36
20.00

(98%)

6th Oct 19
13:30 Tipperary 1m1f Mdn
Delphi
7/11
17/2
16/1
17.50
34.00
21.00

(61%)

6th Oct 19
13:30 Tipperary 1m1f Mdn
Memorabilis
3/11
14/1
11/1
15.50
16.89
8.60

(48%)

6th Oct 19
13:30 Tipperary 1m1f Mdn
Dawn Patrol
4/11
4/1
6/1
4.30
10.99
10.00

(90%)

5th Oct 19
15:25 Newmarket 1m Grp 1
I Can Fly
5/9
18/1
12/1
16.27
13.88
4.20

(25%)

5th Oct 19
15:25 Newmarket 1m Grp 1
Hermosa
8/9
5/1
5/2
4.87
3.69
3.25

(84%)

5th Oct 19
14:50 Newmarket 1m Nov Stks
Shoshone Warrior
5/12
10/1
7/2
8.08
5.12
4.50

(85%)

5th Oct 19
16:00 Newmarket 7f Nov Stks
Vatican City
5/15
5/1
4/1
5.17
6.40
6.00

(93%)

4th Oct 19
20:45 Dundalk 1m4f Hcap
Quote
5/13
5/1
5/1
3.55
11.00
8.40

(74%)

4th Oct 19
18:15 Dundalk 7f Nursery
Lampetia
5/11
4/1
13/2
7.12
7.80
8.00

(103%)

4th Oct 19
18:45 Dundalk 7f Listed
Fort Myers
1/6
6/4
1/1
2.09
2.16
1.01

(1%)

1st Oct 19
15:35 Cork 1m Listed
Amedeo Modigliani
4/13
6/1
8/1
8.32
12.00
2.20

(11%)

1st Oct 19
16:35 Cork 1m Hcap
Tracing
18/18
18/1
8/1
13.42
12.64
16.00

(129%)

29th Sep 19
14:20 Curragh 7f Mdn
Louisiana
2/19
4/1
5/2
4.47
3.68
1.12

(4%)

29th Sep 19
14:20 Curragh 7f Mdn
Coventry
17/19
12/1
10/1
6.78
18.00
21.00

(118%)

29th Sep 19
17:35 Curragh 6f Nursery
Scholastic
13/19
13/2
8/1
7.32
13.00
8.80

(65%)

29th Sep 19
14:50 Curragh 7f Grp 3
Love Locket
7/9
11/1
6/1
6.14
9.11
6.40

(67%)

29th Sep 19
16:00 Curragh 1m Grp 2
Innisfree
1/5
11/4
4/6
1.84
1.79
1.01

(1%)

29th Sep 19
17:05 Curragh 1m Nursery
Mythologic
6/13
5/1
11/4
5.43
4.08
3.00

(65%)

28th Sep 19
14:25 Newmarket 6f Grp1
Etoile
8/11
9/1
8/1
12.12
11.02
5.00

(40%)

28th Sep 19
16:55 Curragh 1m Mdn
Magic Fountain
7/17
15/2
14/1
7.61
26.32
26.00

(99%)

28th Sep 19
15:00 Newmarket 6f Grp1
Monarch Of Egypt
8/8
11/1
9/1
9.76
10.83
8.40

(75%)

28th Sep 19
16:20 Curragh 2m Grp3
Capri
3/4
85/40
5/4
2.72
2.28
1.45

(35%)

28th Sep 19
16:20 Curragh 2m Grp3
Cypress Creek
2/4
7/2
7/1
8.11
11.00
9.20

(82%)

28th Sep 19
16:15 Newmarket 7f Mdn Stks
Love Bracelet
7/15
15/2
6/1
10.06
7.87
4.70

(54%)

28th Sep 19
13:50 Newmarket 1m Grp2
Year Of The Tiger
4/7
9/1
6/1
9.46
8.20
5.00

(56%)

28th Sep 19
15:00 Newmarket 6f Grp1
Lope Y Fernandez
6/8
20/1
9/1
18.12
9.86
9.00

(90%)

28th Sep 19
13:50 Newmarket 1m Grp2
Royal Dornoch
1/7
25/1
16/1
28.29
20.29
1.01

(0%)

28th Sep 19
14:25 Newmarket 6f Grp1
Tango
4/11
33/1
12/1
21.62
16.50
14.00

(84%)

28th Sep 19
13:50 Newmarket 1m Grp2
Iberia
3/7
22/1
9/1
20.85
11.01
3.10

(21%)

27th Sep 19
19:15 Dundalk 1m2f Grp 3
Blenheim Palace
1/8
3/1
5/1
3.75
7.71
1.02

(0%)

27th Sep 19
19:45 Dundalk 1m4f Hcap
Eminence
6/14
7/1
2/1
5.48
3.00
1.40

(20%)

27th Sep 19
17:15 Dundalk 5f Stks
All The Kings Men
4/8
7/1
8/1
9.97
13.50
10.50

(76%)

27th Sep 19
19:15 Dundalk 1m2f Grp 3
Antilles
3/8
11/1
10/1
15.96
14.00
2.20

(9%)

27th Sep 19
14:25 Newmarket 1m4f Grp 3
Simply Beautiful
2/9
14/1
12/1
13.79
18.00
3.50

(15%)

27th Sep 19
17:45 Dundalk 7f Mdn
Flower Garland
6/12
9/1
9/1
15.85
16.50
13.00

(77%)

27th Sep 19
16:10 Newmarket 7f Mdn Stks
New World Tapestry
1/8
2/1
1/1
2.66
2.04
1.01

(1%)

27th Sep 19
15:00 Newmarket 7f Grp 2
Blissful
6/8
6/1
13/2
9.90
9.02
6.00

(62%)

27th Sep 19
16:45 Newmarket 1m4f Listed
Mount Everest
4/5
2/1
10/11
2.08
2.03
1.72

(70%)

27th Sep 19
17:45 Dundalk 7f Mdn
Prose
8/12
14/1
18/1
32.08
46.00
55.00

(120%)

26th Sep 19
14:45 Gowran Park 1m1f Grp 3
Frosty
8/14
18/1
5/1
8.55
7.80
6.20

(76%)

26th Sep 19
14:45 Gowran Park 1m1f Grp 3
I Remember You
9/14
14/1
25/1
42.00
75.00
80.00

(107%)

26th Sep 19
15:20 Gowran Park 1m1f Mdn
Whitsunday Islands
7/16
7/2
6/1
4.03
8.99
7.00

(75%)

26th Sep 19
14:45 Gowran Park 1m1f Grp 3
Credenza
10/14
9/2
6/1
5.06
9.01
10.00

(112%)

26th Sep 19
13:40 Gowran Park 1m Mdn
Heaven Of Heavens
5/13
11/1
5/2
6.26
4.30
3.25

(68%)

26th Sep 19
13:40 Gowran Park 1m Mdn
Meeting
11/13
12/1
20/1
22.83
34.40
13.00

(36%)

26th Sep 19
14:10 Gowran Park 1m Mdn
Mythical
1/8
11/4
9/4
2.56
5.63
1.01

(0%)

26th Sep 19
15:35 Newmarket 7f Grp 3
Wichita
1/6
9/4
10/11
2.90
1.99
1.01

(1%)

23rd Sep 19
17:10 Fairyhouse 6f Listed
Pistoletto
4/5
11/2
9/4
6.22
3.00
3.25

(113%)

18th Sep 19
15:50 Naas 6f Mdn
War Leader
7/14
7/2
11/2
4.73
8.29
3.60

(36%)

18th Sep 19
16:25 Naas 1m Nursery
Mythologic
6/20
8/1
6/1
8.17
7.60
6.80

(88%)

18th Sep 19
16:25 Naas 1m Nursery
Lampetia
3/20
22/1
6/1
11.85
6.67
6.00

(88%)

18th Sep 19
15:20 Naas 6f Mdn
Elfin Queen
7/18
7/1
9/1
10.17
11.88
16.00

(138%)

18th Sep 19
15:20 Naas 6f Mdn
Love Locket
4/18
4/1
10/3
3.80
5.20
3.40

(57%)

18th Sep 19
16:55 Naas 7f Mdn
Elizabethofaragon
10/15
9/1
16/1
19.31
34.00
30.00

(88%)

18th Sep 19
16:55 Naas 7f Mdn
Fancy Blue
1/15
7/1
6/1
3.71
10.57
1.01

(0%)

18th Sep 19
17:30 Naas 7f Mdn
Battle Of Liege
8/16
7/1
8/1
3.97
13.50
7.00

(48%)

18th Sep 19
17:30 Naas 7f Mdn
St Jamess Square
13/16
8/1
7/1
6.63
11.00
15.50

(145%)

18th Sep 19
18:00 Naas 5f Mdn
Eden Quay
3/10
2/1
5/2
2.21
3.31
1.46

(20%)

18th Sep 19
16:55 Naas 7f Mdn
Emerald Green
7/15
12/1
14/1
10.73
21.25
4.00

(15%)

17th Sep 19
18:15 Galway 1m4f Listed
Simply Beautiful
6/10
11/4
3/1
3.08
5.00
3.95

(74%)

17th Sep 19
16:15 Galway 1m Mdn
Serpentine
10/11
10/1
10/1
16.50
16.00
17.00

(107%)

17th Sep 19
18:15 Galway 1m4f Listed
Invitation
10/10
16/1
16/1
23.20
34.00
24.00

(70%)

17th Sep 19
16:15 Galway 1m Mdn
Persia
1/11
4/1
2/1
3.68
3.60
1.01

(0%)

17th Sep 19
19:15 Galway 1m4f Mdn
The Tooth Fairy
1/7
15/8
4/5
2.94
1.81
1.01

(1%)

15th Sep 19
16:10 Curragh 1m6f Grp1
Capri
10/10
18/1
20/1
16.08
36.00
21.00

(57%)

15th Sep 19
18:00 Curragh 1m2f Hcap
Antilles
10/16
25/1
14/1
13.94
24.00
25.00

(104%)

15th Sep 19
15:00 Curragh 7f Grp1
Precious Moments
8/9
16/1
25/1
29.88
50.00
55.00

(110%)

15th Sep 19
13:55 Curragh 1m2f Grp 2
Credenza
3/8
12/1
8/1
20.75
12.00
4.10

(28%)

15th Sep 19
15:00 Curragh 7f Grp1
So Wonderful
3/9
16/1
16/1
17.67
29.00
5.00

(14%)

15th Sep 19
15:35 Curragh 7f Grp1
Armory
2/8
9/2
10/3
6.44
8.80
7.60

(85%)

15th Sep 19
15:00 Curragh 7f Grp1
Tango
7/9
28/1
9/1
56.88
13.00
5.00

(33%)

15th Sep 19
14:25 Curragh 5f Grp1
Fairyland
1/11
14/1
12/1
15.38
19.91
1.01

(0%)