G. M. Lyons Trainer Betting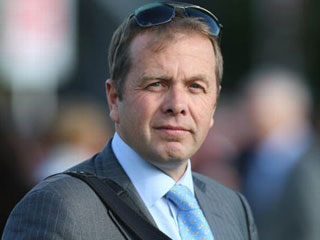 Recent trainer statistics
5
Winners from last 27 runners, in the last 14 days.
£27.00 Bet at &pound1.00 level stakes would result in a profit of £0.00 at industry SP. The same bets placed at Betfair SP would show a profit of £3.22 to £1.00 level stakes.
Today's Runners
The trainers runners for today and all other trainer statistics are updated around 9.30am each day.
Recent Runners
18th Apr 18
19:30 Dundalk 1m Stks
Overcoming
4/4
11/4
10/3
4.00
4.50
3.45

(70%)

18th Apr 18
21:00 Dundalk 6f Hcap
Its All A Joke
2/9
4/1
5/2
4.31
3.65
1.75

(28%)

18th Apr 18
18:30 Dundalk 1m2f Mdn
Treble Cone
2/5
8/1
9/2
4.03
6.35
2.44

(27%)

18th Apr 18
20:00 Dundalk 1m Hcap
Ragtime Red
2/14
11/4
5/1
3.81
7.20
3.00

(32%)

16th Apr 18
17:35 Leopardstown 7f Mdn
Talk Now
5/5
12/1
12/1
11.22
18.50
9.00

(46%)

16th Apr 18
15:30 Leopardstown 1m2f Mdn
Shannow
8/8
8/1
6/1
8.91
7.72
7.40

(95%)

16th Apr 18
17:00 Leopardstown 1m Listed
Brendan Brackan
3/7
11/4
10/3
3.68
4.71
3.00

(54%)

14th Apr 18
15:15 Leopardstown 7f Hcap
Casimiro
6/6
5/1
7/2
5.78
5.20
3.05

(49%)

14th Apr 18
13:40 Leopardstown 1m Mdn
Future Proof
1/11
13/2
5/2
8.08
3.90
1.01

(0%)

14th Apr 18
14:45 Leopardstown 7f Grp 3
Whos Steph
1/13
22/1
10/1
19.33
11.75
1.01

(0%)

13th Apr 18
14:10 Naas 6f Mdn
Scream
5/12
5/1
10/1
5.91
16.00
8.20

(48%)

13th Apr 18
15:50 Naas 1m2f Grp 3
Cannonball
2/5
12/1
10/1
13.50
17.80
2.00

(6%)

13th Apr 18
15:15 Naas 7f Grp 3
Psychedelic Funk
1/6
5/1
5/1
5.17
7.64
1.01

(0%)

13th Apr 18
17:00 Naas 1m2f Mdn
King Dargent
4/5
66/1
20/1
32.50
28.13
7.00

(22%)

13th Apr 18
16:25 Naas 1m2f Hcap
Tony The Gent
6/11
6/1
7/1
6.83
12.00
11.00

(91%)

13th Apr 18
14:10 Naas 6f Mdn
Daliyah
8/12
4/1
7/2
6.48
5.00
3.20

(55%)

11th Apr 18
20:00 Dundalk 1m2f Mdn
Hyperlapse
3/7
3/1
5/2
2.99
3.43
2.04

(43%)

11th Apr 18
19:30 Dundalk 6f Hcap
Blue Uluru
2/6
5/1
7/2
4.31
5.05
1.18

(4%)

11th Apr 18
20:30 Dundalk 1m2f Hcap
Ragtime Red
3/9
3/1
11/10
3.26
1.94
1.13

(14%)

10th Apr 18
16:30 Dundalk 5f Hcap
Its All A Joke
3/8
7/4
11/8
2.76
2.48
1.80

(54%)

10th Apr 18
18:00 Dundalk 7f Mdn
Georgie Hyphen
4/6
22/1
20/1
40.00
74.30
34.00

(45%)

10th Apr 18
17:30 Dundalk 7f Mdn
Elegant Drama
3/13
5/1
9/4
4.55
3.33
3.45

(105%)

10th Apr 18
17:30 Dundalk 7f Mdn
Kodi Koh
5/13
22/1
25/1
49.67
42.00
65.00

(156%)

10th Apr 18
18:00 Dundalk 7f Mdn
Bucky Larson
2/6
13/2
5/1
5.38
7.80
1.05

(1%)

7th Apr 18
16:30 Navan 1m Hcap
Inscribe
2/8
2/1
5/2
3.10
3.75
3.10

(76%)

7th Apr 18
15:55 Navan 1m Mdn
Flat To The Max
1/9
6/5
6/4
2.78
2.53
1.01

(1%)

6th Apr 18
19:00 Dundalk 7f Stks
Masucci
1/6
17/2
3/1
5.74
4.40
1.01

(0%)

31st Mar 18
14:10 Cork 7f Mdn
Scream
5/9
4/1
7/4
3.96
2.93
2.86

(96%)

31st Mar 18
15:55 Cork 1m Mdn
Shapes
5/9
7/4
11/8
2.30
2.53
2.10

(72%)

28th Mar 18
19:00 Dundalk 1m Mdn
Treble Cone
5/12
10/1
16/1
12.50
27.98
19.00

(67%)

28th Mar 18
17:30 Dundalk 5f Mdn
Romme
2/7
3/1
4/1
2.85
5.10
1.97

(24%)

25th Mar 18
14:05 Naas 6f Hcap
Medicine Jack
1/9
8/1
5/1
10.17
6.65
1.08

(1%)

25th Mar 18
13:30 Naas 6f Mdn
Daliyah
5/20
8/1
6/1
8.65
7.40
5.40

(69%)

25th Mar 18
14:40 Naas 7f Hcap
Palariva
13/14
11/1
20/1
20.00
25.54
19.50

(75%)

25th Mar 18
16:25 Naas 1m Mdn
King Dargent
6/15
16/1
25/1
18.14
63.26
80.00

(127%)

25th Mar 18
15:50 Naas 1m Hcap
Tony The Gent
16/20
20/1
16/1
25.17
25.02
42.00

(171%)

25th Mar 18
16:25 Naas 1m Mdn
Bobby Boy
1/15
14/1
4/1
8.59
5.40
1.01

(0%)

25th Mar 18
15:15 Naas 1m Grp 3
Elegant Pose
3/7
6/4
4/6
2.20
1.72
1.57

(79%)

23rd Mar 18
18:00 Dundalk 6f Hcap
Its All A Joke
1/10
10/3
5/4
4.76
2.28
1.01

(1%)

5th Jan 18
18:30 Dundalk 7f Stks
Artistic Melody
3/13
10/1
8/1
7.43
9.80
4.50

(40%)

5th Jan 18
19:30 Dundalk 1m2f Mdn
Lilyhammer
5/14
80/1
14/1
26.00
22.00
26.00

(119%)

21st Dec 17
18:00 Dundalk 7f Mdn
Kiss The Wind
5/13
4/1
4/1
5.47
6.62
21st Dec 17
16:30 Dundalk 5f Nursery
Its Two O Clock
4/4
2/1
11/10
2.21
2.17
15th Dec 17
20:30 Dundalk 1m2f Mdn
Teqany
9/14
10/1
2/1
6.97
3.24
2.84

(82%)

15th Dec 17
21:00 Dundalk 1m2f Hcap
Il Piccolo Grande
12/14
6/1
6/1
10.35
9.58
10.50

(111%)

8th Dec 17
20:30 Dundalk 1m Hcap
Glastonbury Song
2/10
8/1
3/1
7.40
4.30
5.00

(121%)

8th Dec 17
20:00 Dundalk 1m Mdn
Dhafeera
2/13
2/1
8/11
2.48
1.75
1.32

(43%)

24th Nov 17
19:30 Dundalk 1m Nursery
Mojambo
2/14
497/1
25/1
8.80
37.05
1.70

(2%)

24th Nov 17
19:00 Dundalk 1m Mdn
Lady Nathaniel
2/13
15/2
7/2
5.97
4.70
2.00

(27%)

24th Nov 17
19:30 Dundalk 1m Nursery
Brians Bride
12/14
18/1
18/1
17.74
46.94
6.20

(11%)

24th Nov 17
20:00 Dundalk 7f Mdn
Elegant Drama
2/14
5/1
4/6
3.70
1.71
1.04

(6%)

22nd Nov 17
18:40 Kempton 1m Listed
Glastonbury Song
10/12
22/1
12/1
26.21
15.33
14.00

(91%)

8th Nov 17
17:55 Dundalk 7f Mdn
Beckoning
1/10
4/1
1/1
6.80
2.06
1.29

(27%)

8th Nov 17
19:25 Dundalk 1m2f Hcap
Teqany
5/14
9/1
5/1
5.54
6.58
2.62

(29%)

8th Nov 17
18:25 Dundalk 7f Hcap
Silk Cravat
3/14
11/2
11/4
4.46
4.03
3.00

(66%)

8th Nov 17
17:25 Dundalk 7f Mdn
Palariva
1/11
13/2
3/1
5.35
4.53
1.01

(0%)

5th Nov 17
16:00 Naas 1m4f Listed
Mustajeer
3/9
7/2
3/1
5.73
5.20
3.90

(69%)

5th Nov 17
14:25 Naas 1m2f Hcap
Inscribe
1/16
6/1
11/8
5.55
2.54
1.01

(1%)

5th Nov 17
13:55 Naas 7f Nursery
Burmese Blazer
5/8
12/1
3/1
7.27
5.21
3.55

(61%)

3rd Nov 17
18:30 Dundalk 1m Claim Stks
Il Piccolo Grande
8/13
9/1
4/1
7.60
5.24
5.20

(99%)

3rd Nov 17
17:30 Dundalk 5f Mdn
Its Two O Clock
1/7
7/4
4/9
2.56
1.50
1.01

(2%)

28th Oct 17
13:25 Leopardstown 7f Mdn
Scream
7/16
16/1
5/1
8.11
7.00
7.20

(103%)

28th Oct 17
15:55 Newbury 7f Listed
Moonlight Bay
9/13
11/2
5/1
7.47
6.49
3.05

(37%)

28th Oct 17
16:50 Leopardstown 1m4f Hcap
Mawaany
3/16
15/2
5/1
5.57
5.90
4.00

(61%)

27th Oct 17
18:30 Dundalk 1m Mdn
Bring On The Band
3/12
9/1
10/3
6.16
4.66
3.70

(74%)

27th Oct 17
17:25 Dundalk 7f Claim
Melisandre
3/10
9/4
5/2
3.25
3.77
1.80

(29%)

20th Oct 17
20:00 Dundalk 5f Listed
Blue Uluru
8/13
18/1
20/1
17.32
50.00
42.00

(84%)

20th Oct 17
20:30 Dundalk 1m Mdn
Lady Nathaniel
6/14
9/1
11/2
8.65
7.18
6.80

(94%)

20th Oct 17
20:00 Dundalk 5f Listed
Ardhoomey
5/13
12/1
6/1
10.13
8.03
3.05

(29%)

20th Oct 17
18:30 Dundalk 7f Hcap
Lightening Fast
14/14
16/1
14/1
11.59
29.48
21.00

(70%)

20th Oct 17
21:00 Dundalk 1m4f Hcap
Thunder Crash
2/12
7/1
4/1
5.72
5.19
1.51

(12%)

14th Oct 17
14:45 Cork 7f Hcap
Celebration
1/13
12/1
5/1
8.12
8.00
1.01

(0%)

14th Oct 17
15:20 Cork 1m Listed
Brendan Brackan
1/10
17/2
3/1
4.46
4.40
1.01

(0%)

14th Oct 17
16:30 Cork 1m Hcap
Always Dancing
4/11
7/1
6/1
9.31
7.60
7.20

(94%)

8th Oct 17
14:35 Navan 6f Listed
Blue Uluru
8/10
13/2
7/1
9.60
9.06
8.80

(97%)

8th Oct 17
15:05 Navan 6f Listed
Ardhoomey
6/12
11/1
7/2
7.67
5.50
4.00

(67%)

8th Oct 17
14:35 Navan 6f Listed
Gobi Desert
1/10
11/2
3/1
5.93
4.75
1.01

(0%)

4th Oct 17
16:15 Naas 1m Mdn
Hypnotic Force
8/17
12/1
7/1
8.27
10.92
8.00

(71%)

4th Oct 17
14:05 Naas 6f Stks
Brians Bride
5/14
5/1
2/1
3.08
3.03
2.60

(79%)

4th Oct 17
14:35 Naas 5f Mdn
Its All A Joke
6/16
9/1
7/1
6.49
9.90
4.80

(43%)

4th Oct 17
15:40 Naas 1m Mdn
Whos Steph
1/10
16/1
2/1
7.97
3.11
1.01

(0%)

3rd Oct 17
18:25 Dundalk 7f Hcap
Silk Cravat
2/14
11/2
10/3
5.10
5.90
3.00

(41%)

3rd Oct 17
19:25 Dundalk 1m2f Mdn
Lady Nathaniel
2/14
16/1
9/1
7.60
13.86
3.00

(16%)

3rd Oct 17
17:20 Dundalk 1m Mdn
The Kid Bobby B
1/14
14/1
2/1
9.08
4.03
1.04

(1%)

3rd Oct 17
18:55 Dundalk 7f Hcap
Melisandre
14/14
11/2
7/1
7.19
11.50
10.00

(86%)

24th Sep 17
17:30 Naas 1m Hcap
Tuff Love
10/10
18/1
16/1
9.00
26.00
22.00

(84%)

24th Sep 17
16:00 Naas 6f Grp 3
Ardhoomey
3/10
12/1
14/1
13.79
17.12
18.50

(109%)

24th Sep 17
16:30 Naas 5f Hcap
Imagine If
10/12
14/1
7/1
9.20
9.40
8.20

(86%)

24th Sep 17
15:30 Naas 6f Stks
Would You Believe
pu/14
11/4
7/4
3.71
2.75
2.00

(57%)

24th Sep 17
14:00 Naas 7f Mdn
Mcmunigal
1/15
17/2
13/2
14.90
8.58
1.01

(0%)

24th Sep 17
14:30 Naas 7f Grp 3
Ball Girl
9/9
9/1
7/1
14.94
8.59
8.80

(103%)

16th Sep 17
17:30 Gowran Park 1m1f Mdn
Erratic Path
1/17
7/1
5/1
9.20
6.30
1.01

(0%)

9th Sep 17
17:05 Leopardstown 1m4f Grp3
Cannonball
4/6
13/2
10/1
9.19
15.41
2.44

(10%)

9th Sep 17
16:35 Leopardstown 1m5f Hcap
Song of Namibia
6/20
16/1
20/1
19.17
29.93
3.30

(8%)

9th Sep 17
19:20 Leopardstown 7f Hcap
Noivado
17/18
25/1
25/1
23.00
41.14
20.00

(47%)

9th Sep 17
16:00 Leopardstown 1m Grp3
Camelback
5/10
14/1
14/1
9.66
27.77
21.00

(75%)

9th Sep 17
16:35 Leopardstown 1m5f Hcap
Percy
17/20
25/1
16/1
23.33
34.00
20.00

(58%)

9th Sep 17
18:10 Leopardstown 1m Grp2
Psychedelic Funk
3/7
12/1
12/1
10.38
18.50
3.35

(13%)

9th Sep 17
19:20 Leopardstown 7f Hcap
Glastonbury Song
6/18
33/1
11/1
15.00
18.50
16.00

(86%)

9th Sep 17
15:25 Leopardstown 7f Mdn
Whos Steph
9/18
40/1
25/1
55.00
38.63
90.00

(237%)