David O'Meara Trainer Betting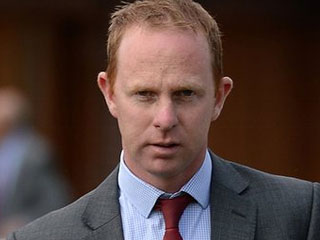 Recent trainer statistics
5
Winners from last 53 runners, in the last 14 days.
£53.00 Bet at &pound1.00 level stakes would result in a loss of £-24.17 at industry SP. The same bets placed at Betfair SP would show a loss of £-21.87 to £1.00 level stakes.
Today's Runners
The trainers runners for today and all other trainer statistics are updated around 9.30am each day.
Recent Runners
23rd May 18
14:55 Yarmouth 6f Mdn Stks
Dosc
2/10
3/1
7/1
6.40
14.33
7.00

(45%)

23rd May 18
16:25 Yarmouth 7f Hcap
Mujassam
4/8
7/1
6/1
9.22
7.56
5.50

(69%)

23rd May 18
17:05 Ayr 1m2f Hcap
Fire Leopard
4/8
13/2
9/2
6.94
6.54
5.00

(72%)

22nd May 18
15:05 Ayr 1m Hcap
Warriors Spirit
6/11
12/1
6/1
10.49
7.00
4.00

(50%)

22nd May 18
16:45 Ayr 6f Hcap
Saryshagann
5/7
6/1
9/2
6.14
7.00
2.62

(27%)

22nd May 18
16:10 Ayr 7f Hcap
Sultan Baybars
4/9
9/2
6/1
6.41
8.54
5.20

(56%)

22nd May 18
16:10 Ayr 7f Hcap
Hajjam
1/9
6/1
10/3
7.24
4.70
1.01

(0%)

22nd May 18
14:55 Nottingham 1m Class Stks
Bowler Hat
4/7
14/1
25/1
21.09
60.48
15.00

(24%)

21st May 18
16:45 Carlisle 7f Hcap
Ventura Royal
10/11
9/1
8/1
8.48
12.00
9.60

(78%)

21st May 18
16:45 Carlisle 7f Hcap
Weellan
2/11
11/2
4/1
9.01
5.50
1.40

(9%)

21st May 18
14:35 Redcar 5f Hcap
Ingleby Molly
10/10
7/1
3/1
4.36
4.29
3.70

(82%)

21st May 18
14:05 Redcar 6f Nov Stks
Hurricane Five
11/11
50/1
50/1
69.29
85.00
80.00

(94%)

20th May 18
15:30 Ripon 1m1f Hcap
Fayez
2/7
8/1
20/1
21.25
28.31
2.06

(4%)

20th May 18
15:30 Ripon 1m1f Hcap
Trading Point
6/7
11/4
13/8
3.62
2.59
2.40

(88%)

20th May 18
14:20 Ripon 6f Hcap
Me Before You
1/13
11/1
8/1
14.44
10.00
1.01

(0%)

19th May 18
17:50 Doncaster 1m4f Hcap
Clenymistra
10/11
14/1
14/1
13.07
22.00
11.00

(48%)

19th May 18
20:50 Doncaster 6f Hcap
Summerghand
1/16
10/1
7/1
11.10
8.67
1.01

(0%)

19th May 18
14:45 Thirsk 5f Mdn Stks
Oxygenic
4/6
25/1
16/1
26.60
18.65
11.50

(59%)

19th May 18
15:40 Newbury 1m Grp1
Suedois
7/14
25/1
25/1
26.79
26.89
9.60

(33%)

19th May 18
17:50 Doncaster 1m4f Hcap
Ingleby Hollow
2/11
5/1
5/1
5.65
7.07
3.00

(33%)

19th May 18
15:20 Thirsk 5f Hcap
Aleef
6/14
16/1
22/1
20.92
34.58
7.60

(20%)

19th May 18
15:55 Thirsk 1m Hcap
Waarif
2/16
11/1
7/2
9.71
5.50
4.10

(69%)

19th May 18
20:50 Doncaster 6f Hcap
Ma Fee Heela
16/16
9/1
3/1
7.69
4.80
4.90

(103%)

19th May 18
17:05 Thirsk 5f Hcap
Out Do
6/6
15/2
3/1
8.36
4.55
3.00

(56%)

18th May 18
17:05 York 5f Hcap
Areen Faisal
12/15
20/1
20/1
19.04
28.00
25.00

(89%)

18th May 18
17:05 York 5f Hcap
Billy Dylan
5/15
22/1
16/1
20.29
27.00
13.00

(46%)

18th May 18
17:40 York 1m4f Hcap
Oskemen
12/16
16/1
20/1
19.08
40.00
10.00

(23%)

18th May 18
16:05 York 1m2f Hcap
Mon Beau Visage
9/11
16/1
33/1
37.51
70.00
50.00

(71%)

18th May 18
16:35 York 7f Hcap
Isabella
12/12
13/2
9/2
8.02
6.40
5.00

(74%)

17th May 18
14:20 York 5f Hcap
Edward Lewis
5/18
14/1
6/1
12.00
7.25
5.00

(64%)

17th May 18
16:05 York 1m Hcap
Larchmont Lad
3/10
12/1
8/1
14.19
11.46
7.20

(59%)

17th May 18
16:05 York 1m Hcap
Custom Cut
6/10
16/1
33/1
50.00
78.32
46.00

(58%)

17th May 18
16:05 York 1m Hcap
Mythical Madness
9/10
14/1
16/1
17.27
28.06
28.00

(100%)

16th May 18
17:35 York 1m4f Hcap
Mutadaffeq
9/17
22/1
25/1
30.00
47.37
40.00

(84%)

16th May 18
16:35 York 7f Hcap
Montague
14/15
16/1
12/1
16.75
16.08
10.00

(60%)

16th May 18
18:00 Yarmouth 6f Hcap
Lucifugous
9/15
16/1
9/2
9.66
5.84
5.50

(93%)

16th May 18
16:35 York 7f Hcap
Three Saints Bay
11/15
12/1
7/1
14.08
10.80
6.00

(51%)

16th May 18
17:05 York 5f Nov Stks
Mayson Mac
7/9
8/1
8/1
11.46
10.91
2.00

(10%)

16th May 18
14:55 York 6f Hcap
Out Do
4/19
25/1
14/1
12.77
22.00
2.52

(7%)

16th May 18
17:35 York 1m4f Hcap
Daawy
15/17
25/1
20/1
27.96
44.19
19.50

(43%)

15th May 18
16:10 Beverley 1m Hcap
Areen Heart
5/11
9/2
9/2
6.93
6.77
3.05

(36%)

15th May 18
16:10 Beverley 1m Hcap
Jacbequick
8/11
9/2
9/1
8.77
12.00
8.40

(67%)

14th May 18
14:00 Catterick 5f Nov Stks
Fighting Spirit
6/10
18/1
22/1
39.75
24.32
9.00

(34%)

12th May 18
17:10 Ascot 6f Hcap
Muscika
7/17
14/1
12/1
17.58
15.61
15.50

(99%)

12th May 18
15:40 Lingfield 7f Grp 3
Lincoln Rocks
2/7
8/1
9/2
7.81
6.58
1.60

(11%)

12th May 18
19:45 Thirsk 5f Hcap
Dundunah
11/11
20/1
16/1
10.38
22.00
15.00

(67%)

12th May 18
15:20 Curragh 5f Listed
Fashion Queen
7/8
5/1
10/1
10.47
15.21
6.00

(35%)

12th May 18
18:45 Thirsk 1m4f Hcap
Stonific
1/13
7/1
11/4
4.28
4.10
1.01

(0%)

12th May 18
19:15 Thirsk 6f Hcap
Conversant
13/16
7/2
15/8
4.41
2.88
2.86

(99%)

12th May 18
16:20 Haydock 7f Listed
So Beloved
4/6
4/1
7/2
5.95
5.20
3.00

(48%)

12th May 18
15:45 Haydock 6f Cond Stks
Intisaab
1/5
4/1
11/4
3.69
3.66
1.01

(0%)

12th May 18
16:00 Ascot 7f Hcap
Escobar
21/27
18/1
12/1
23.49
17.11
11.00

(62%)

12th May 18
16:00 Ascot 7f Hcap
Firmament
9/27
28/1
14/1
21.43
22.82
16.50

(71%)

9th May 18
15:00 Chester 5f Hcap
Billy Dylan
8/10
11/2
10/1
11.23
12.00
5.90

(45%)

9th May 18
17:05 Chester 7f Hcap
Sultan Baybars
4/12
11/1
11/2
8.26
7.25
3.50

(40%)

8th May 18
17:25 Thirsk 1m Hcap
Wonderfillo
5/8
13/2
5/1
5.03
7.01
4.80

(63%)

8th May 18
16:25 Thirsk 5f Mdn Stks
Liamba
4/7
28/1
14/1
22.79
18.46
15.00

(80%)

8th May 18
13:50 Thirsk 5f Nov Stks
Fastman
1/9
7/1
7/1
5.85
8.74
1.01

(0%)

8th May 18
14:20 Thirsk 7f Mdn Stks
Makawee
6/10
7/1
8/1
13.69
10.24
10.00

(97%)

7th May 18
15:40 Beverley 7f Hcap
Nature Boy
1/16
6/1
6/1
7.28
8.29
1.01

(0%)

7th May 18
15:40 Beverley 7f Hcap
Warriors Spirit
9/16
25/1
10/1
26.96
12.95
12.50

(96%)

7th May 18
18:00 Beverley 7f Hcap
Highland Bobby
6/15
9/2
5/1
5.40
6.60
3.00

(36%)

7th May 18
16:15 Beverley 1m2f Hcap
Jacbequick
2/8
4/1
11/4
4.78
4.31
2.56

(47%)

7th May 18
16:50 Beverley 1m Hcap
Areen Heart
2/7
5/1
5/2
4.25
4.04
1.44

(14%)

6th May 18
16:55 Hamilton 1m Hcap
Fleetfoot Jack
4/12
15/2
5/2
5.49
3.48
2.94

(78%)

6th May 18
15:45 Hamilton 6f Hcap
Ma Fee Heela
5/15
12/1
11/4
7.92
4.32
3.00

(60%)

6th May 18
16:20 Hamilton 1m Mdn Stks
Valentino Dancer
1/9
9/4
1/1
2.13
2.16
1.01

(1%)

5th May 18
15:50 Goodwood 1m Listed
Lincoln Rocks
3/7
4/1
3/1
4.13
4.25
3.00

(62%)

5th May 18
15:05 Wetherby 1m Hcap
Fayez
10/15
22/1
50/1
33.96
73.24
18.50

(24%)

5th May 18
17:15 Doncaster 6f Hcap
Watchable
1/11
16/1
9/1
12.06
11.74
1.01

(0%)

5th May 18
15:05 Wetherby 1m Hcap
Rousayan
15/15
16/1
33/1
28.46
63.99
11.00

(16%)

5th May 18
15:15 Goodwood 5f Hcap
Aleef
5/8
10/1
14/1
12.60
19.00
9.00

(44%)

5th May 18
17:50 Doncaster 5f Nov Stks
Murqaab
2/7
13/2
11/4
8.22
4.00
1.33

(11%)

5th May 18
18:50 Doncaster 7f Hcap
Salateen
1/6
6/1
7/2
5.02
5.80
1.01

(0%)

5th May 18
13:25 Wetherby 1m6f Hcap
Ingleby Hollow
1/12
5/1
9/4
4.00
3.66
1.01

(0%)

4th May 18
16:40 Musselburgh 1m1f Hcap
Trading Point
1/10
2/1
1/1
2.55
2.20
1.01

(1%)

4th May 18
14:10 Musselburgh 5f Nov Stks
Oxygenic
5/7
16/1
28/1
23.04
38.00
9.80

(24%)

4th May 18
15:40 Musselburgh 7f Hcap
Montague
2/8
13/2
7/2
10.43
4.50
1.19

(5%)

3rd May 18
16:10 Redcar 7f Claim Stks
Acrux
6/6
4/1
11/4
5.83
4.23
2.10

(34%)

3rd May 18
15:10 Redcar 7f Nov Stks
Diplomacy
5/10
14/1
10/3
13.23
4.80
3.25

(59%)

3rd May 18
14:10 Redcar 5f Sell Stks
Hurricane Five
5/7
12/1
16/1
21.52
21.00
26.00

(125%)

3rd May 18
19:20 Chelmsford City 1m Hcap
Mythical Madness
2/6
18/1
12/1
20.79
18.01
1.02

(0%)

3rd May 18
15:50 Southwell 7f Hcap
Mujassam
2/5
4/1
6/1
5.85
7.84
4.60

(53%)

2nd May 18
16:30 Pontefract 6f Hcap
Short Work
5/10
12/1
7/1
11.54
8.20
2.76

(24%)

2nd May 18
15:55 Pontefract 1m Hcap
Lamloom
2/14
7/1
8/1
8.26
10.46
1.05

(1%)

2nd May 18
15:20 Pontefract 1m2f Hcap
Vigee Le Brun
6/7
7/2
3/1
3.32
4.20
3.05

(64%)

1st May 18
18:25 Newcastle 6f Nov Stks
Weellan
4/9
6/1
11/4
4.60
4.03
3.85

(94%)

1st May 18
19:25 Newcastle 1m2f Hcap
Dalshand
6/6
18/1
10/1
24.42
14.24
8.20

(54%)

1st May 18
18:25 Newcastle 6f Nov Stks
Moretti
5/9
28/1
22/1
19.50
36.00
30.00

(83%)

1st May 18
17:20 Newcastle 7f Hcap
Mon Beau Visage
5/10
16/1
11/1
14.46
12.47
3.20

(19%)

30th Apr 18
16:05 Thirsk 6f Hcap
Black Isle Boy
1/15
28/1
16/1
14.31
20.00
1.01

(0%)

30th Apr 18
16:05 Thirsk 6f Hcap
Muscika
7/15
11/1
8/1
12.60
10.00
7.40

(71%)

30th Apr 18
13:50 Thirsk 6f Hcap
Me Before You
8/12
12/1
8/1
8.38
10.00
9.20

(91%)

30th Apr 18
16:35 Thirsk 6f Mdn
Battle Commence
4/9
14/1
7/1
7.38
7.36
1.50

(8%)

29th Apr 18
16:25 Wetherby 7f Hcap
Waarif
5/14
9/1
9/1
12.17
10.69
5.00

(41%)

29th Apr 18
16:25 Wetherby 7f Hcap
Hajjam
3/14
11/2
2/1
4.01
3.40
1.02

(1%)

29th Apr 18
16:55 Wetherby 1m Hcap
Highland Bobby
1/11
9/1
5/1
7.18
8.80
1.01

(0%)

28th Apr 18
16:00 Ripon 1m4f Hcap
Grandee
2/6
9/2
4/1
4.94
5.28
1.60

(14%)

28th Apr 18
15:15 Haydock 1m Hcap
Fleetfoot Jack
2/16
12/1
9/1
10.25
14.22
2.50

(11%)

28th Apr 18
17:05 Ripon 5f Hcap
Areen Faisal
4/6
3/1
4/1
4.78
6.24
1.73

(14%)