Stuart Williams Trainer Betting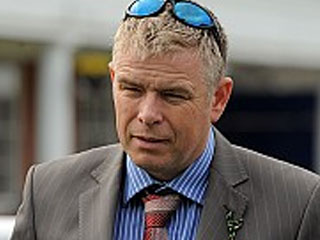 Recent trainer statistics
1
Winner from last 20 runners, in the last 14 days.
£20.00 Bet at &pound1.00 level stakes would result in a loss of £-15.50 at industry SP. The same bets placed at Betfair SP would show a loss of £-14.40 to £1.00 level stakes.
Today's Runners
The trainers runners for today and all other trainer statistics are updated around 9.30am each day.
Recent Runners
15th Jun 19
14:05 Sandown 5f Listed
Street Parade
7/8
4/1
7/1
5.82
9.20
10.00

(110%)

14th Jun 19
16:50 Sandown 1m2f Hcap
Rhythmic Intent
2/8
3/1
9/4
4.31
3.31
2.78

(77%)

14th Jun 19
15:45 Sandown 1m2f Hcap
Allegiant
13/13
10/1
14/1
28.29
23.24
14.00

(58%)

13th Jun 19
17:15 Newbury 1m2f Hcap
Me Too Nagasaki
5/6
5/1
3/1
4.89
4.67
3.20

(60%)

13th Jun 19
15:15 Nottingham 6f Hcap
Alaadel
2/9
20/1
10/1
10.64
11.50
1.98

(9%)

13th Jun 19
15:25 Yarmouth 1m3f Hcap
Vin Dhonneur
11/11
9/1
8/1
11.27
12.62
14.00

(112%)

13th Jun 19
16:30 Yarmouth 1m Hcap
Marronnier
3/8
9/2
8/1
6.59
11.78
6.00

(46%)

12th Jun 19
15:30 Yarmouth 1m2f Hcap
No Trouble
9/12
40/1
8/1
18.40
10.20
8.80

(85%)

12th Jun 19
16:00 Yarmouth 6f Hcap
Hanakotoba
3/6
7/1
11/1
14.81
15.33
4.10

(22%)

11th Jun 19
17:15 Salisbury 6f App Hcap
Human Nature
5/8
12/1
9/2
10.79
6.25
4.00

(57%)

10th Jun 19
19:15 Windsor 5f Hcap
Tawny Port
1/6
16/1
7/2
13.81
5.60
1.01

(0%)

9th Jun 19
16:10 Goodwood 6f Hcap
Tawny Port
6/10
12/1
7/2
7.08
4.80
3.80

(74%)

9th Jun 19
14:30 Goodwood 1m3f Hcap
Me Too Nagasaki
5/12
14/1
9/1
13.05
12.99
4.40

(28%)

8th Jun 19
15:55 Newmarket 6f Hcap
Swiss Knight
7/13
18/1
25/1
25.54
45.92
16.00

(33%)

8th Jun 19
20:15 Lingfield 6f Hcap
Burguillos
6/6
16/1
12/1
21.67
17.50
9.00

(48%)

8th Jun 19
16:15 Chelmsford City 5f Hcap
Royal Birth
5/10
11/1
6/1
10.85
8.33
5.00

(55%)

6th Jun 19
18:00 Chelmsford City 6f Hcap
Field Gun
7/7
9/1
10/1
10.30
16.00
13.50

(83%)

6th Jun 19
15:40 Haydock 5f Hcap
Tone The Barone
8/13
5/2
7/4
3.42
2.75
1.87

(50%)

3rd Jun 19
20:00 Windsor 1m Hcap
Maratha
7/7
12/1
8/1
9.78
10.17
8.00

(76%)

2nd Jun 19
16:30 Nottingham 5f Hcap
Indian Raj
5/7
11/2
7/2
6.35
4.74
4.30

(88%)

1st Jun 19
15:45 Epsom 5f Hcap
Daschas
19/19
20/1
16/1
28.33
27.00
23.00

(85%)

30th May 19
17:20 Yarmouth 1m Hcap
Lunar Deity
/
5/1
7.05
8.40
6.20

(70%)

28th May 19
15:40 Leicester 1m2f Hcap
Allegiant
3/8
9/2
15/8
5.22
3.04
2.50

(74%)

27th May 19
13:45 Leicester 1m Hcap
Burguillos
9/9
9/1
12/1
9.65
17.50
14.00

(79%)

27th May 19
17:25 Windsor 1m Hcap
No Trouble
11/14
18/1
33/1
25.58
68.72
36.00

(52%)

27th May 19
15:05 Windsor 5f Hcap
Street Parade
1/5
12/1
7/1
7.56
9.09
1.01

(0%)

27th May 19
16:55 Chelmsford City 7f Hcap
Able Jack
11/14
25/1
14/1
20.33
23.32
11.00

(45%)

27th May 19
17:30 Chelmsford City 5f Hcap
Sarsaparilla Kit
4/10
14/1
5/2
9.15
3.66
2.00

(38%)

27th May 19
13:55 Windsor 6f Hcap
Hart Stopper
6/7
12/1
8/1
8.65
10.23
11.50

(114%)

25th May 19
14:00 York 7f Hcap
Via Serendipity
8/8
11/1
6/1
8.96
9.02
5.80

(60%)

25th May 19
16:55 Goodwood 6f Hcap
Shamshon
3/6
9/4
3/1
3.95
4.18
2.90

(60%)

24th May 19
14:20 Goodwood 7f Hcap
Department Of War
6/9
11/2
5/1
7.13
7.72
6.60

(83%)

24th May 19
17:10 Goodwood 5f Hcap
Hanakotoba
5/10
9/1
12/1
15.48
17.50
10.50

(58%)

24th May 19
15:05 Bath 1m2f Hcap
Vin Dhonneur
2/6
8/1
10/1
11.29
12.50
1.60

(5%)

24th May 19
14:00 Bath 6f Hcap
Field Gun
5/5
3/1
5/2
4.14
3.82
3.00

(71%)

23rd May 19
18:00 Sandown 1m2f Hcap
My Boy Sepoy
1/14
10/1
5/1
8.46
6.83
1.01

(0%)

23rd May 19
17:10 Lingfield 5f Hcap
Enthaar
2/9
9/1
5/1
8.33
8.20
5.00

(56%)

22nd May 19
16:45 Yarmouth 7f Hcap
Swift Approval
4/10
15/2
11/4
4.83
4.30
3.90

(88%)

21st May 19
15:35 Brighton 1m Hcap
Juanito Chico
4/7
9/1
13/2
8.29
8.20
2.98

(28%)

20th May 19
19:00 Windsor 6f Hcap
Equitation
1/10
15/2
5/2
5.82
3.98
1.01

(0%)

18th May 19
17:35 Newmarket 5f Hcap
Daschas
1/9
9/2
11/4
4.87
4.11
1.01

(0%)

18th May 19
15:15 Newmarket 6f Hcap
Don Armado
8/14
25/1
16/1
29.75
23.22
18th May 19
16:25 Newmarket 7f Hcap
Ghayadh
6/6
12/1
20/1
18.94
21.71
17th May 19
17:15 Newmarket 6f Hcap
Lethal Angel
2/11
13/2
12/1
8.40
15.81
2.00

(7%)

17th May 19
17:15 Newmarket 6f Hcap
Human Nature
5/11
11/1
12/1
23.50
14.50
4.40

(25%)

17th May 19
14:35 Newmarket 7f Hcap
Glenn Coco
1/8
6/1
7/2
4.39
4.68
1.01

(0%)

17th May 19
16:05 York 7f Hcap
Breathtaking Look
3/15
18/1
16/1
17.69
21.10
2.12

(6%)

16th May 19
13:50 York 5f Hcap
Royal Birth
16/21
22/1
33/1
28.38
81.41
95.00

(117%)

15th May 19
16:05 York 7f Hcap
Watchmyeverymove
18/19
16/1
25/1
25.23
50.91
48.00

(94%)

15th May 19
14:00 Yarmouth 6f Hcap
Dance To Freedom
8/11
12/1
8/1
11.55
10.50
11.00

(105%)

15th May 19
16:45 Yarmouth 1m Hcap
Cape Cyclone
8/14
12/1
9/1
9.06
13.62
10.00

(71%)

15th May 19
16:15 Yarmouth 1m Hcap
Juanito Chico
6/8
7/1
9/2
7.14
6.40
3.45

(45%)

14th May 19
15:50 Beverley 1m Hcap
Me Too Nagasaki
10/14
12/1
11/1
11.86
15.84
12.00

(74%)

13th May 19
18:20 Windsor 6f Hcap
Restless Rose
4/8
11/1
12/1
10.50
16.00
10.00

(60%)

11th May 19
16:15 Lingfield 7f Hcap
Swift Approval
5/7
7/1
5/1
5.44
7.00
2.80

(30%)

11th May 19
16:00 Ascot 7f Hcap
Via Serendipity
25/26
33/1
40/1
63.75
90.17
44.00

(48%)

11th May 19
16:00 Ascot 7f Hcap
Alemaratalyoum
16/26
40/1
25/1
28.62
38.00
14.00

(35%)

10th May 19
15:45 Ascot 6f Hcap
Equitation
8/11
10/1
17/2
9.97
10.71
8.00

(72%)

10th May 19
19:50 Nottingham 1m Hcap
Me Too Nagasaki
5/10
17/2
5/1
8.17
7.17
6.80

(94%)

10th May 19
15:45 Ascot 6f Hcap
Tawny Port
11/11
50/1
7/1
21.38
9.87
8.60

(86%)

5th May 19
14:55 Newmarket 6f Hcap
Hart Stopper
7/10
25/1
40/1
41.17
55.00
44.00

(80%)

4th May 19
16:10 Newmarket 6f Hcap
Don Armado
7/12
28/1
33/1
34.50
44.46
36.00

(81%)

3rd May 19
16:45 Lingfield 7f Nov Stks
Lope Athena
5/7
14/1
25/1
22.69
74.58
95.00

(128%)

3rd May 19
13:35 Lingfield 1m2f Hcap
My Boy Sepoy
4/6
7/2
7/2
3.79
5.15
3.00

(48%)

1st May 19
16:35 Brighton 5f Hcap
Hanakotoba
5/6
2/1
9/4
2.93
3.88
2.98

(69%)

1st May 19
17:00 Ascot 5f Hcap
Daschas
2/13
12/1
7/2
6.43
4.35
1.37

(11%)

1st May 19
17:35 Ascot 1m Hcap
Juanito Chico
19/20
8/1
14/1
9.36
19.69
16.50

(83%)

1st May 19
17:00 Ascot 5f Hcap
Human Nature
8/13
12/1
16/1
17.81
22.00
16.50

(74%)

1st May 19
17:00 Ascot 5f Hcap
Indian Raj
4/13
10/1
6/1
10.15
7.91
6.00

(72%)

30th Apr 19
18:55 Chelmsford City 7f Hcap
Field Gun
5/6
9/4
9/4
2.99
3.34
3.00

(85%)

30th Apr 19
14:00 Nottingham 1m Nov Stks
Rhythmic Intent
3/9
11/2
7/2
11.85
7.00
5.60

(77%)

30th Apr 19
16:15 Yarmouth 7f Hcap
Burguillos
4/4
13/2
11/4
6.62
4.21
4.00

(93%)

30th Apr 19
13:50 Brighton 5f Hcap
Shamshon
1/7
3/1
4/1
3.02
5.40
1.01

(0%)

30th Apr 19
17:00 Brighton 1m2f Hcap
Lunar Deity
6/9
7/2
3/1
5.32
4.40
3.05

(60%)

29th Apr 19
15:45 Southwell 1m Hcap
Me Too Nagasaki
3/7
11/2
5/1
6.61
7.11
3.30

(38%)

29th Apr 19
18:30 Windsor 1m2f Hcap
Allegiant
2/9
10/3
5/1
5.83
7.00
6.60

(93%)

29th Apr 19
16:55 Windsor 6f Hcap
Tone The Barone
1/15
14/1
4/1
11.44
5.62
1.01

(0%)

27th Apr 19
13:40 Leicester 6f Hcap
Enthaar
7/15
8/1
9/2
6.85
6.32
3.25

(42%)

26th Apr 19
17:00 Doncaster 6f Hcap
Lethal Angel
3/11
11/2
13/2
4.80
8.62
3.00

(26%)

25th Apr 19
20:00 Chelmsford City 1m Hcap
Able Jack
9/9
6/1
10/1
10.19
15.64
6.60

(38%)

25th Apr 19
19:30 Chelmsford City 6f Hcap
Antonia Clara
3/11
12/1
7/1
6.98
9.29
2.28

(15%)

24th Apr 19
14:10 Epsom 5f Hcap
Shamshon
4/10
13/2
9/2
9.19
6.80
5.20

(72%)

23rd Apr 19
16:35 Yarmouth 5f Hcap
Wiff Waff
2/7
4/1
2/1
3.36
3.30
3.30

(100%)

20th Apr 19
19:50 Brighton 1m Hcap
Lunar Deity
4/8
15/8
10/3
3.57
4.70
6.20

(141%)

20th Apr 19
17:35 Nottingham 5f Hcap
Hanakotoba
2/10
14/1
10/1
13.94
12.63
1.99

(9%)

20th Apr 19
18:05 Nottingham 1m Hcap
Juanito Chico
1/7
9/2
2/1
5.02
3.21
1.01

(0%)

20th Apr 19
14:00 Kempton 5f Hcap
Royal Birth
5/9
11/2
7/2
5.70
5.79
5.40

(92%)

19th Apr 19
15:05 Lingfield 6f Cond Stks
Royal Birth
8/11
33/1
33/1
69.58
130.00
180.00

(139%)

19th Apr 19
15:30 Bath 1m Hcap
Ghayadh
12/12
40/1
20/1
23.57
27.01
24.00

(88%)

18th Apr 19
18:30 Chelmsford City 7f Hcap
Glenn Coco
1/10
9/2
3/1
6.89
4.57
1.01

(0%)

18th Apr 19
17:20 Newmarket 5f Hcap
Shamshon
6/11
9/1
8/1
15.01
9.59
9.00

(93%)

18th Apr 19
19:00 Chelmsford City 1m2f Hcap
Juanito Chico
2/7
9/1
8/1
32.04
11.25
5.20

(41%)

17th Apr 19
13:50 Newmarket 6f Hcap
Don Armado
7/11
22/1
14/1
17.33
17.00
18.00

(106%)

16th Apr 19
13:50 Newmarket 6f Hcap
Burguillos
9/15
22/1
25/1
40.58
45.39
22.00

(47%)

16th Apr 19
13:50 Newmarket 6f Hcap
Alemaratalyoum
11/15
22/1
20/1
22.62
30.25
26.00

(85%)

15th Apr 19
15:00 Windsor 5f Hcap
Enthaar
4/13
8/1
4/1
7.11
6.03
5.40

(87%)

10th Apr 19
16:30 Lingfield 6f Hcap
Antonia Clara
5/11
9/1
14/1
15.08
23.90
25.00

(105%)

10th Apr 19
15:55 Lingfield 6f Claim Stks
Wiff Waff
2/7
10/3
6/1
4.52
8.98
3.20

(28%)

10th Apr 19
16:10 Nottingham 1m Hcap
Me Too Nagasaki
6/9
9/2
7/2
4.64
5.10
3.50

(61%)

8th Apr 19
16:20 Windsor 6f Hcap
Equitation
2/11
5/1
6/1
9.19
8.60
2.70

(22%)