Nigel Tinkler Trainer Betting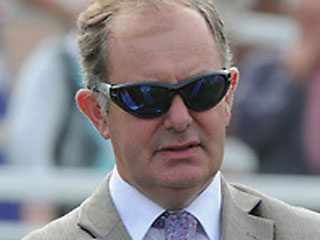 Recent trainer statistics
1
Winner from last 15 runners, in the last 14 days.
£15.00 Bet at &pound1.00 level stakes would result in a loss of £-10.00 at industry SP. The same bets placed at Betfair SP would show a loss of £-9.15 to £1.00 level stakes.
Today's Runners
The trainers runners for today and all other trainer statistics are updated around 9.30am each day.
Recent Runners
15th Jun 19
14:25 York 7f Hcap
Kaeso
9/20
14/1
13/2
11.29
8.17
8.00

(98%)

15th Jun 19
17:15 York 6f Hcap
Seen The Lyte
4/22
16/1
16/1
19.67
25.53
12.00

(45%)

15th Jun 19
16:05 York 6f Mdn Stks
Cmon Cmon
13/13
40/1
25/1
44.46
130.00
110.00

(84%)

14th Jun 19
14:20 York 1m2f Hcap
Archie Perkins
3/14
13/2
10/3
6.03
4.44
2.40

(41%)

14th Jun 19
16:40 York 6f Hcap
Daffy Jane
2/10
28/1
25/1
48.75
27.20
6.00

(19%)

12th Jun 19
14:00 Yarmouth 6f Hcap
Hello Girl
5/12
9/1
6/1
12.68
7.75
8.00

(104%)

12th Jun 19
14:00 Yarmouth 6f Hcap
Cliff
4/12
8/1
10/3
6.10
4.40
4.20

(94%)

10th Jun 19
19:05 Pontefract 6f Hcap
Tenax
3/9
8/1
16/1
15.01
20.00
30.00

(153%)

10th Jun 19
19:05 Pontefract 6f Hcap
Triple Distilled
2/9
20/1
9/1
9.24
12.58
2.00

(9%)

10th Jun 19
21:05 Pontefract 5f Hcap
Sheepscar Lad
6/12
14/1
11/2
10.55
7.20
7.40

(103%)

8th Jun 19
16:20 Beverley 1m2f Hcap
Archie Perkins
1/11
11/2
4/1
5.26
5.85
1.01

(0%)

5th Jun 19
19:30 Ripon 6f Hcap
Princess Power
4/10
10/1
10/1
13.56
12.35
10.00

(79%)

5th Jun 19
14:00 Nottingham 1m2f Hcap
Allux Boy
4/15
7/1
5/1
7.97
7.40
2.62

(25%)

5th Jun 19
15:10 Nottingham 6f Hcap
Cliff
5/15
10/1
8/1
10.27
10.74
2.44

(15%)

5th Jun 19
20:00 Ripon 6f Hcap
Roundhay Park
10/11
9/1
6/1
9.36
8.69
14.50

(176%)

30th May 19
17:10 Wetherby 1m Hcap
Laura Louise
/
20/1
33.58
72.50
65.00

(90%)

29th May 19
16:25 Hamilton 1m1f Hcap
Dutch Coed
7/11
18/1
11/1
15.33
16.00
8.00

(47%)

29th May 19
16:55 Hamilton 1m1f Hcap
Northern Lyte
7/12
25/1
16/1
16.71
19.50
11.00

(54%)

29th May 19
16:10 Beverley 1m2f Hcap
Kilbaha Lady
1/7
17/2
4/1
7.72
5.17
1.01

(0%)

28th May 19
16:50 Redcar 5f Hcap
Seen The Lyte
3/10
16/1
11/1
12.73
14.50
4.90

(29%)

27th May 19
17:55 Redcar 1m2f Hcap
Allux Boy
4/14
9/2
13/2
11.25
9.20
2.22

(15%)

27th May 19
16:45 Redcar 1m2f Hcap
Archie Perkins
1/8
7/1
11/2
7.66
7.40
1.01

(0%)

25th May 19
14:00 York 7f Hcap
Normandy Barriere
5/8
12/1
16/1
14.92
19.81
20.00

(101%)

25th May 19
14:55 Chester 7f Hcap
Kaeso
1/10
6/1
3/1
5.60
5.30
1.01

(0%)

25th May 19
14:20 Chester 6f Hcap
Princess Power
5/9
9/2
7/2
5.28
4.95
5.00

(101%)

25th May 19
17:25 York 7f Hcap
Citron Major
1/8
11/2
9/2
5.91
6.08
1.01

(0%)

24th May 19
20:30 Pontefract 1m2f Hcap
Kilbaha Lady
4/10
5/1
6/1
7.18
8.40
4.00

(41%)

24th May 19
20:00 Pontefract 5f Hcap
Sheepscar Lad
7/12
7/1
9/1
7.42
13.50
10.00

(72%)

21st May 19
16:35 Wolverhampton 1m Hcap
Laura Louise
8/13
33/1
20/1
28.00
30.00
22.00

(72%)

20th May 19
14:45 Carlisle 6f Hcap
Firmdecisions
1/14
12/1
18/1
20.92
24.00
1.01

(0%)

19th May 19
14:00 Ripon 6f Nov Stks
King Lenox
4/9
22/1
20/1
24.00
26.90
13.00

(46%)

18th May 19
20:05 Doncaster 6f Hcap
Athollblair Boy
4/17
12/1
14/1
13.31
18.76
19.50

(104%)

18th May 19
14:45 Thirsk 5f Hcap
Bashiba
13/16
12/1
12/1
12.10
19.50
18th May 19
17:40 Thirsk 6f Hcap
Ginger Jam
3/11
7/2
7/4
3.30
3.00
2.00

(50%)

18th May 19
20:35 Doncaster 7f Hcap
Triple Distilled
3/5
28/1
11/1
50.50
14.72
8.60

(55%)

17th May 19
16:05 York 7f Hcap
Daffy Jane
12/15
22/1
33/1
29.46
44.00
44.00

(100%)

17th May 19
16:35 York 5f Hcap
Tenax
5/14
8/1
5/1
6.69
6.93
2.04

(18%)

17th May 19
14:10 Newbury 6f Hcap
Normandy Barriere
5/9
33/1
11/1
29.11
13.50
9.20

(66%)

15th May 19
14:25 York 6f Hcap
Roundhay Park
6/21
33/1
20/1
63.11
34.00
5.40

(13%)

15th May 19
14:25 York 6f Hcap
Whinmoor
15/21
22/1
14/1
18.55
18.23
14.00

(75%)

14th May 19
16:20 Beverley 1m2f Hcap
Northern Lyte
ur/11
14/1
14/1
26.54
19.37
14th May 19
14:20 Beverley 5f Nov Stks
Cmon Cmon
6/9
15/2
7/2
7.14
5.00
5.30

(108%)

11th May 19
20:45 Thirsk 6f Hcap
Cliff
5/15
28/1
33/1
40.00
44.47
300.00

(688%)

11th May 19
20:45 Thirsk 6f Hcap
Ginger Jam
1/15
13/2
5/1
5.90
6.43
1.01

(0%)

11th May 19
16:00 Ascot 7f Hcap
Kaeso
3/26
66/1
14/1
56.04
18.00
8.00

(41%)

10th May 19
18:30 Ripon 1m2f Sell Stks
Zoom Out
6/9
20/1
6/1
18.52
11.17
13.00

(118%)

10th May 19
19:00 Ripon 6f Hcap
Sheepscar Lad
6/9
7/2
7/2
5.09
5.10
4.30

(80%)

10th May 19
19:30 Ripon 5f Hcap
Seen The Lyte
3/6
10/1
10/1
10.71
13.50
5.90

(39%)

8th May 19
16:35 Chester 6f Hcap
Princess Power
3/13
22/1
16/1
21.88
24.11
11.00

(43%)

7th May 19
18:00 Wolverhampton 1m Hcap
Allux Boy
1/12
18/1
11/2
10.27
7.23
1.01

(0%)

6th May 19
18:00 Beverley 7f Hcap
Furyan
8/12
33/1
25/1
23.54
29.47
19.00

(63%)

6th May 19
13:55 Beverley 5f Nov Stks
King Lenox
4/10
16/1
11/1
8.69
18.00
14.00

(76%)

4th May 19
14:30 Thirsk 6f Hcap
Athollblair Boy
3/13
16/1
11/1
17.71
13.16
95.00

(773%)

4th May 19
17:25 Thirsk 5f Hcap
Bashiba
5/13
14/1
28/1
20.15
33.94
2.22

(4%)

4th May 19
18:20 Doncaster 1m Hcap
Triple Distilled
7/8
14/1
33/1
22.65
59.98
30.00

(49%)

4th May 19
18:50 Doncaster 6f Hcap
Roundhay Park
8/13
20/1
10/1
40.38
13.20
13.00

(98%)

3rd May 19
20:00 Newcastle 7f Hcap
Citron Major
7/7
10/1
25/1
27.58
30.00
17.00

(55%)

3rd May 19
17:50 Newcastle 1m2f Hcap
Archie Perkins
4/6
14/1
25/1
32.17
45.36
17.00

(36%)

2nd May 19
17:10 Redcar 1m Hcap
Zoom Out
9/14
33/1
12/1
55.00
16.75
15.00

(89%)

1st May 19
16:45 Pontefract 6f Hcap
Seen The Lyte
5/6
6/1
11/1
10.81
16.50
6.00

(32%)

30th Apr 19
17:25 Yarmouth 1m Hcap
Laura Louise
8/10
25/1
28/1
26.31
62.19
34.00

(54%)

30th Apr 19
17:10 Nottingham 5f Hcap
Tenax
2/6
2/1
4/1
4.01
5.48
5.50

(100%)

30th Apr 19
16:15 Yarmouth 7f Hcap
Whinmoor
2/4
3/1
6/1
6.05
8.69
1.71

(9%)

29th Apr 19
19:10 Thirsk 6f Hcap
Sheepscar Lad
3/14
12/1
10/1
16.75
12.16
3.80

(25%)

28th Apr 19
17:55 Wetherby 5f Hcap
Ginger Jam
4/10
6/1
3/1
4.68
4.57
2.20

(34%)

27th Apr 19
16:30 Leicester 1m2f Hcap
Dutch Coed
10/13
8/1
9/1
10.17
12.50
12.50

(100%)

27th Apr 19
14:55 Ripon 6f Hcap
Roundhay Park
11/15
16/1
20/1
27.17
29.00
25.00

(86%)

27th Apr 19
17:05 Ripon 5f Hcap
True Hero
7/9
7/2
11/4
4.94
4.07
3.00

(65%)

27th Apr 19
13:40 Leicester 6f Hcap
Firmdecisions
2/15
20/1
12/1
14.02
18.50
1.56

(3%)

27th Apr 19
14:55 Ripon 6f Hcap
Normandy Barriere
12/15
22/1
25/1
39.00
33.75
60.00

(180%)

27th Apr 19
14:20 Ripon 1m Hcap
Kaeso
2/14
22/1
16/1
23.73
18.50
17.50

(94%)

26th Apr 19
15:55 Doncaster 5f Hcap
Bashiba
9/12
14/1
16/1
14.57
20.28
50.00

(254%)

26th Apr 19
15:25 Doncaster 6f Hcap
Princess Power
10/13
13/2
14/1
8.81
17.63
14.00

(78%)

23rd Apr 19
19:10 Wolverhampton 7f Hcap
Im Billy Murphy
11/12
12/1
14/1
22.33
16.00
11.00

(67%)

22nd Apr 19
15:40 Redcar 6f Hcap
Seen The Lyte
3/6
10/1
25/1
19.16
38.26
12.00

(30%)

22nd Apr 19
15:05 Redcar 7f Hcap
Athollblair Boy
4/8
14/1
16/1
16.44
27.00
21.00

(77%)

22nd Apr 19
18:00 Redcar 6f Hcap
Furyan
11/15
28/1
12/1
20.75
14.89
16.50

(112%)

19th Apr 19
16:55 Newcastle 5f Hcap
Bashiba
12/12
10/1
28/1
16.42
34.56
50.00

(146%)

18th Apr 19
17:45 Ripon 5f Hcap
Sheepscar Lad
5/11
9/1
17/2
11.17
9.83
12.50

(130%)

18th Apr 19
15:25 Ripon 6f Hcap
Daffy Jane
9/13
7/1
12/1
11.65
15.61
6.00

(34%)

17th Apr 19
14:15 Beverley 5f Nov Stks
Hovingham
8/11
28/1
100/1
77.29
350.00
340.00

(97%)

16th Apr 19
20:15 Wolverhampton 1m1f Hcap
Allux Boy
6/13
10/1
14/1
26.29
19.14
12.00

(61%)

16th Apr 19
13:50 Newmarket 6f Hcap
Normandy Barriere
13/15
18/1
11/1
18.85
14.89
14.00

(94%)

13th Apr 19
17:55 Thirsk 6f Hcap
Cliff
10/17
20/1
33/1
36.00
58.71
50.00

(85%)

13th Apr 19
16:15 Thirsk 5f Hcap
Tenax
3/10
11/1
28/1
24.21
44.84
7.40

(15%)

13th Apr 19
16:15 Thirsk 5f Hcap
Princess Power
2/10
14/1
14/1
18.62
23.93
3.15

(9%)

13th Apr 19
17:55 Thirsk 6f Hcap
Ginger Jam
3/17
15/2
10/1
9.97
15.16
11.00

(71%)

11th Apr 19
19:00 Newcastle 1m Hcap
Zoom Out
10/14
16/1
14/1
24.25
18.50
25.00

(137%)

10th Apr 19
14:00 Nottingham 5f Hcap
True Hero
3/12
11/2
16/1
11.88
24.31
2.22

(5%)

10th Apr 19
15:35 Nottingham 1m Hcap
Kaeso
9/12
25/1
14/1
23.32
16.00
16.50

(103%)

8th Apr 19
16:30 Redcar 1m2f Hcap
Kilbaha Lady
1/12
8/1
7/1
6.83
8.55
1.01

(0%)

8th Apr 19
17:00 Redcar 1m2f Hcap
Dutch Coed
10/12
17/2
13/2
10.55
7.60
8.00

(106%)

5th Apr 19
16:50 Leicester 7f Hcap
Firmdecisions
11/11
8/1
10/1
6.11
14.08
15.50

(111%)

4th Apr 19
13:55 Southwell 7f Hcap
Singe Du Nord
4/14
12/1
9/1
13.22
11.46
7.00

(57%)

1st Apr 19
18:45 Newcastle 6f Hcap
Athollblair Boy
3/14
9/1
5/1
9.62
8.80
2.40

(18%)

1st Apr 19
18:15 Newcastle 7f Hcap
Zoom Out
7/14
25/1
16/1
18.65
26.00
20.00

(76%)

28th Mar 19
17:30 Chelmsford City 1m Hcap
Kilbaha Lady
4/10
9/2
5/1
4.87
7.00
4.40

(57%)

22nd Mar 19
19:00 Newcastle 7f Hcap
Firmdecisions
7/12
25/1
12/1
27.88
17.89
4.10

(18%)

16th Mar 19
17:40 Wolverhampton 1m Hcap
Kilbaha Lady
3/13
11/2
8/1
5.99
11.53
5.10

(39%)

4th Mar 19
17:45 Wolverhampton 1m1f Hcap
Kilbaha Lady
/
6/1
5.04
7.37
3.00

(31%)