Top 5 Cascading Slots
Masques of San Marco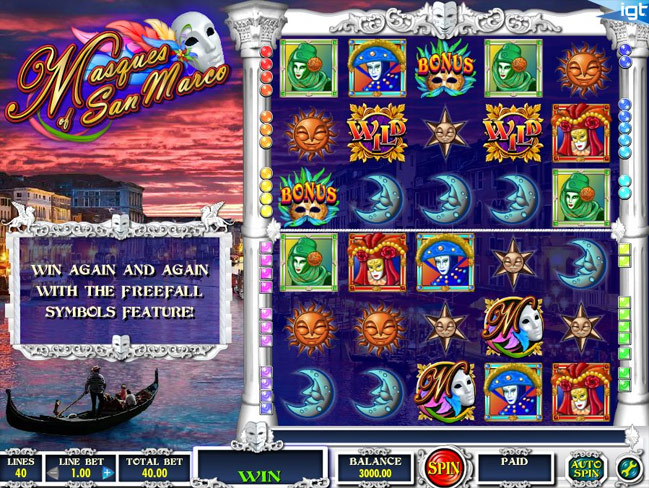 Masques of San Marco is 40 win line slot that plays over 5 reels. The game is labeled as duel play which splits the reels in to two horizontally so you are playing two separate sets of reels. Any wins in the bottom set of reels causes the top set of reels to cascade down.
Getting three bonus symbols on the win line will earn you 6 free spins in the bonus round which are played without any multiplier but the big difference is that the two sets of reels become one and you play the bonus spins with 20 more win lines. The extra win lines makes for a lot more wins and bigger wins and it is also possible to earn six extra spins in the bonus round with three more bonus symbols on any win line which is quite common.
This Venice themed slot is quite loud and garish and might not to be everyone's taste but it is still a great game.
Pixies of the Forest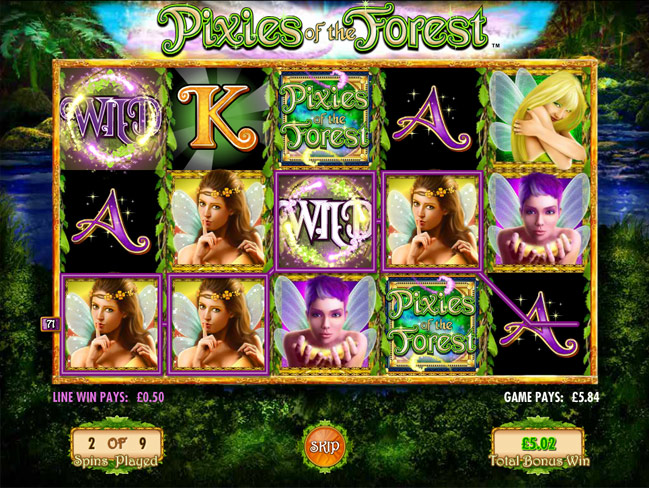 This slot plays with 99 win lines over 5 reels but you only pay for 33 so you can play for as little as 33p up to £99 a spin. While most wins pay modest sums any wins involving any of the feature pixie characters can be quite large especially any 5 reel wins that can be achieved often with the amount of wilds that come in to play.
You earn the bonus round in this slot with 3 bonus symbols where you need to select one to earn up to 11 free spins. While the bonus round plays exactly the same as the standard games without any additional multipliers the reels are much richer with higher value symbols and a lot more wilds for big wins.
Gonzo's Quest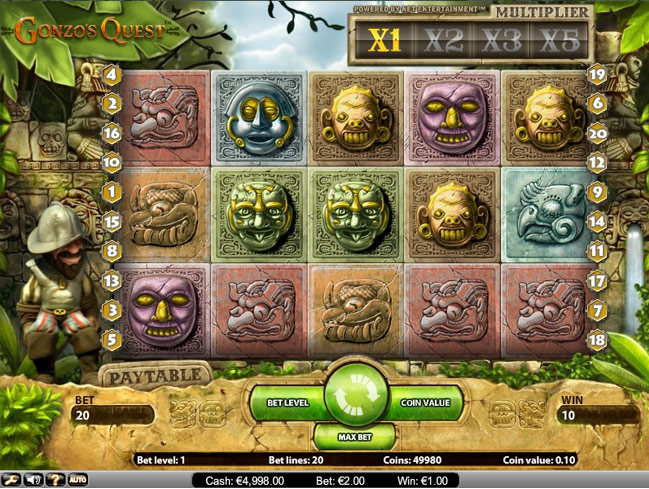 Gonzalo Pizarro is on a quest for gold in the Amazon in this 20 line cascading slot that plays for as little as 1p a line. Each winning line increases the win multiplier on the next possible cascading win up to a maximum multiplier of x5 which can massively increase the modest wins on this slot.
What really gets you big wins though is the Free Falls round which is earned by getting three gold coin symbols on a win line on reels 1 - 3, wilds also come in to play to earn the bonus round. In the bonus round you will have 10 free games but with much higher multipliers of 3x, 6x, 9x and 15x. You can also earn more free spins durring the bonus round by getting 3 more gold coins on a win line.
Transformers - Battle For Cybertron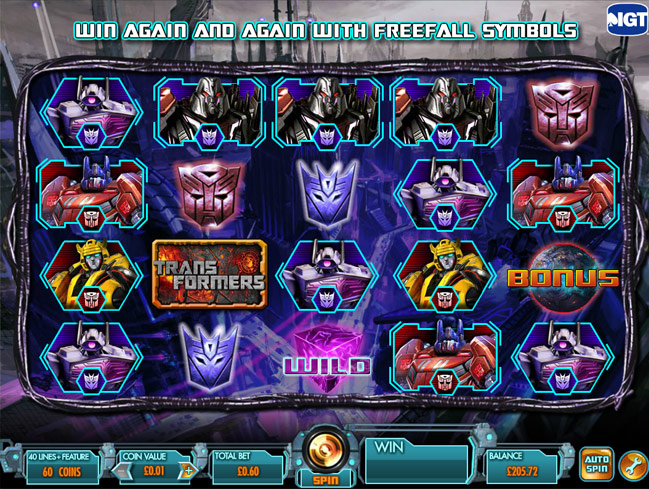 This Transformer themed slot is a 40 win line slot over 5 reels that plays for a minimum stake of 60p a play and up to £600. There are multiple bonus rounds on this slot that include free spins and in-game bonus features.
The in-game bonuses are triggered randomly.
Optimus Prime destroys all Decepticon symbols where multiple wilds and other symbols will cascade down.
Megatron destroys all Autobot symbols where multiple wilds and other symbols will cascade down.
Grimlock burns away a random formation of symbols where multiple wilds and other symbols will cascade down.
Shockwave blows up a random formation of symbols where multiple wilds and other symbols will cascade down.
Ratchet triggers the free spins bonus when have 2 bonus symbols already in view.
When getting all three bonus symbols on reels 1, 3 and 5 for the free-spins bonus round you choose one of 4 Transformers characters that have varying spins and levels of multipliers.
Megatron – 5 free spins with 8x-10x multiplier (randomly applied)
Optimus Prime – 8 free spins with 4x-10x multiplier (randomly applied)
Shockwave – 12 free spins with 3x-5x multiplier (randomly applied)
Bumblebee – 15 free spins with 2x-4x multiplier (randomly applied)
While characters like Shockwave give more spins in the bonus rounds with lower multipliers it is the Megatron and Optimus Prime characters that generally give the bigger wins. The Battle for Cybertron is a great game with atmospheric sound effects and great graphics and if you are fans of Transformers then you will love this game.
The Big Bad Wolf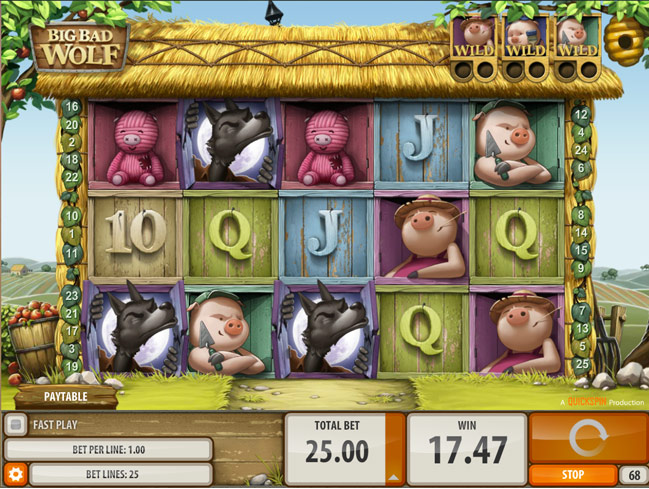 The Big Bad Wolf slot is a 25 winline slot that features 5 reels that is based on the kids story of Little Red Riding Hood. There is no Little Red Riding hood here but the 3 little piggies and the Big Bad Wolf take centre stage in this fun to play slot.
As a 25 line slot the minimum play as you might expect is just 25p and all the way up to £100 a spin. The bonus round of 10 free spins is triggered when 3 or more wolf symbols appear on the board; these only appear on reels 1, 2 and 3. While in the bonus round it is possible to earn more free spins with 3 more wolf symbols and this can trigger several times during a bonus round to earn many more free spins. Another feature of the bonus round is triggered by a new moon symbol that only appears on reel 5 of the bonus round, collect 3 and you will earn 2 extra spins and do it again and you will earn a 2x multiplier on all subsequent wins in the bonus round and another 2 spins.
What really gets you big wins are multiple wins on the cascading reels that trigger the piggie symbols to become wild. If you you get 2 winning cascading wins the pink piggies become wild, 4 cascading wins and then the blue piggies become wild and on 6 wins the green piggie also becomes wild. With all piggies playing as wilds multiple 5 reel big wins are common.