Gemix Slot Review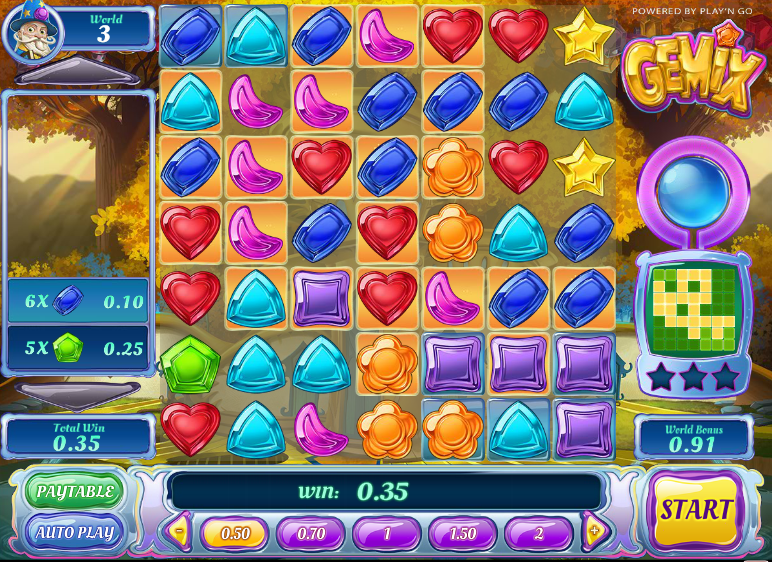 Gemix would look right at home on your phone or tablet as its more Candy Crush Saga and Bejeweled than casino slot. Just like those games this is a similar cascading slot where 5 or more connected matching symbols gets the winning started. Each winning sequence collapses and more symbols fall down to keep the wins coming.
You can play this slot for as little as 10p a play which makes it great slot to play for some cheap game play. For the high-rollers you can play up to £100 a game.
Gemix features different worlds and each one has 3 levels to complete. On completing the third level of a world you receive a 'World Bonus' which builds up over the 3 levels as a percentage of your wins.
Each level has its own world pattern to complete and each world features its own type of wild feature which is randomly awarded on non-winning games, these can be up to 10 random wilds, up to 8 sticky wilds and wilds that can spread across the screen.
Multiple wins trigger the 'Crystal Charge' meter. A streak of 20 winning symbols will charge up the meter and you will win of the Crystal Charge features below:
Nova Blast – One symbol explodes, destroying and transforming adjacent symbols!
Crystal Warp – One symbol is targeted. All matching symbols are warped in to other symbols!
Light Beam – One symbol shoots out light beams. Hit symbols are transformed to other symbols!
Chain Lightning – Two corner symbols are connected with a chain lightning. All hit symbols are transformed to one of the corner symbols!
If the win streak continues up to 40 symbols then the 'Super Charge' feature is triggered which will award a large bonus win, a crystal charge feature and all subsequent wins in that game are multiplied by 3 which can end up giving some big wins.
This is a great game and anyone that that is a fan of the Candy Crush Saga type games will really like this slot. You can play for pennies and still have decent wins when you hit the 'Super Charge' feature.